Balloonies review
Theme and Storyline
Set in a frankly bizarre world of balloon animals, Balloonies comes off as if it had been designed for small children. Odd in an industry with a slashed-eighteen symbol on every webpage.
The symbols on every reel are soft edged images of cute animals made from balloons, on a background of bluest sky. This gimmick is mirrored by having the symbols float up from the bottom of the screen rather than drop down from the top as with most slots.
This childish theme has very little additional substance. No characters or setting to contextualise anything. The theme is little more than an excuse for a set of uninteresting visuals.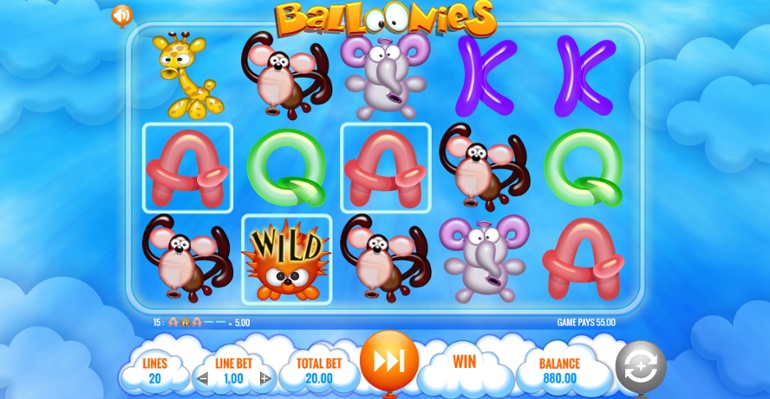 Graphics, Sounds and Animations
Balloonies graphics do nothing to elevate the already rather limited sense of atmosphere. The entire slot is decked out in pastel coloured images. These are a small set of balloon animals before the designers give up and revert to the usual ace to ten designs for the rest of the symbols.
The animations that acompany them are barely enough to sell the floating balloon concept, let alone make it interesting. The soundtrack is a tired musical loop with reel sounds that are dull but thematically appropriate. For example, winning combinations disappear with the sound of a balloon popping.
All in all, this slot has a front end that feels tacky but has at least been thought through by the artists.
Gameplay
Balloonies is a simple five by three slot machine with twenty win lines. It comes with a minor quirk on its Scatter symbols and a bog-standard free spin bonus.
No effort was spent in making this slot do anything that might elevate the gameplay.
Wilds, Bonuses and Free Spins
Balloonies comes kitted out with several special symbols. The Wild symbol substitutes for all symbols except the Bonus and Star symbol.
The Star Symbol serves as a scatter, paying out two times the player's bet per line for every star that lands on a reel, regardless of location or order.
The Bonus Symbol is a more typical kind of Scatter; hitting three Bonus Symbols will pay out twice the player's total bet per spin, and will trigger a basic free spin bonus.
The Free Spin Bonus begins by having the player choose from three balloons, which will randomly assign between four and fourteen free spins. The Bonus cannot be retriggered, however, it is played on reels with an increased frequency of Star symbols.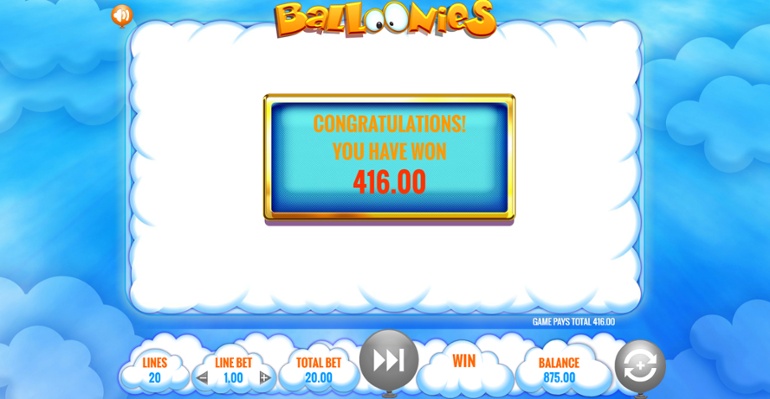 Bet Sizes, RTP and Variance
The return to player of this game is 96.23%. Our yardstick for average is roughly 96%, making Balloonies a marginally above average slot in this regard. Pretty much only in this regard.
The range of bets on the site we tested ran from a minimum bet per spin of $/£/€0.20 up to a maximum of $/£/€20.00 per spin.
The volatility of this game is at the low end of medium, which makes it a poor match for our preferred slot machine strategies and more or less precludes a recommendation from us.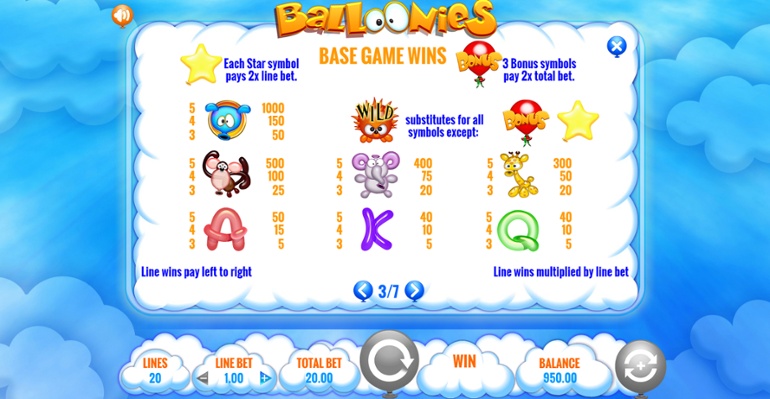 Conclusion
Balloonies is a poor slot to look at and very mediocre to play. The RTP is acceptable, but the volatility is not high enough to tempt us.
We would recommend finding a different game.
Author:
Jon Pill
| This review was last updated: 14 Jul 2021