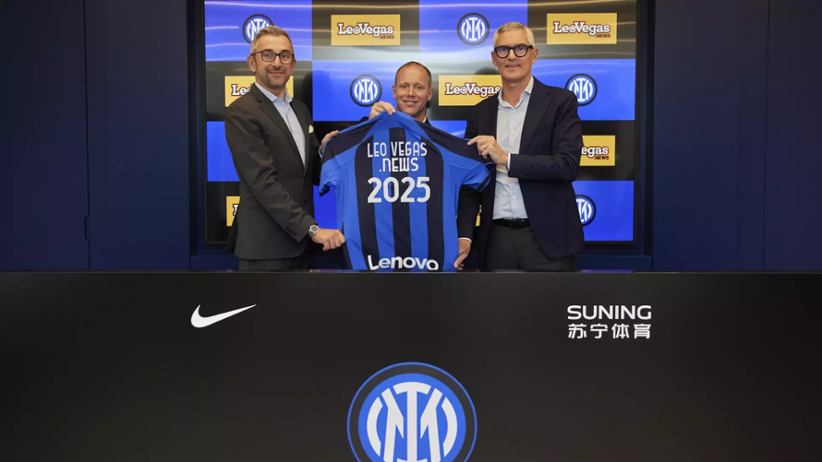 The leading global online gaming company, LeoVegas, announced a new collaboration with Inter Milan, the Italian professional football club. Under the terms of the recent deal, LeoVegas.News was designated as the club's Infotainment Partner. The collaboration with the magazine that is dedicated to football covers the next three years.
LeoVegas.News will benefit from brand exposure. Such exposure will include brand visibility during Inter Milan's home matches. What's more, LeoVegas.News' logo will appear on "sideline LED boards and on the Big Screen, as well as at the Suning Training Centre in Appiano Gentile," the club explained.
In a statement, Paola Maia, who is a part of the team at LeoVegas.News, commented on the topic by saying: "This is a new partnership for us and we are very excited to start this new season." She explained that LeoVegas was after finding a partner with similar values which is why Inter Milan was the perfect fit. Maia added that the new collaboration will help "maximize the visibility of the LeoVegas.News brand by taking advantage of all the attendance we will have at the stadium."
LeoVegas.News' CMO, Niklas Lindahl, added that the brand is proud to be named the Infotainment Partner of Inter Milan. He acknowledged that the club is incredibly popular and loved by many sports fans around the globe. Lindahl added: "Our partnership rests on our shared cultural approach towards digital entertainment that involves and excites Nerazzurri fans and football lovers in general, who can tell anecdotes, stories and interesting trivia for our users." According to him, the new collaboration between LeoVegas.News and Inter Milan will elevate the experiences for fans of the Nerazzurri club.
Inter Milano's Chief Revenue Officer, Luca Danovaro, added that the club is excited to see LeoVegas.News join Nerazzurri's growing portfolio of partners. He outlined that delivering high-quality content for its fan base plays a pivotal role in the club's growth strategy. Moreover, Danovaro said that the new deal complements Inter Milan's plan to become a global entertainment company. Last but not least he said: "This new partnership will allow our fans to be part of the Inter World even more."
Earlier this month, LeoVegas formed a new partnership with Premier League football team Manchester City. Thanks to the collaboration, the company was named Official Betting Partner for the club, applicable for Europe and Canada. The deal complemented LeoVegas' growth plans while at the same time expanding its list of partners that includes leading teams and sports leagues.
Image credit: Inter Milan