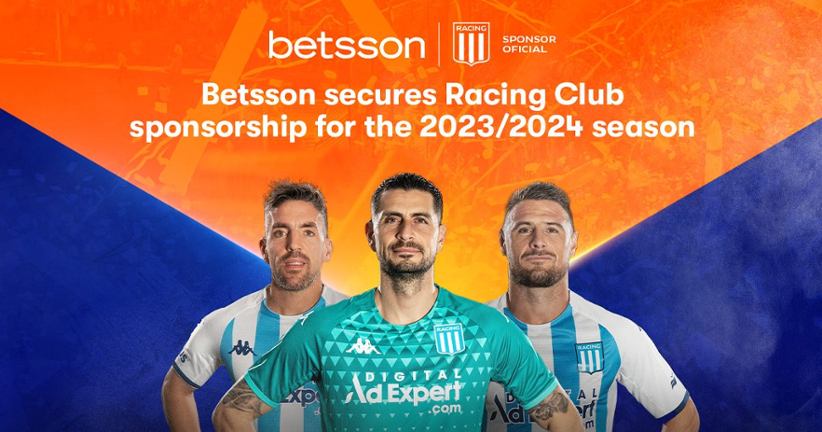 The leading sports betting and online casino operator, Betsson, signed a new sponsorship deal in an effort to boost its presence within the Latin American region. The company revealed it signed a deal with Racing Club de Avellaneda, a famous professional sports club based in Buenos Aires Province Avellaneda, Argentina. The new sponsorship agreement, deemed a "strategic alliance," will see the Swedish brand benefit from exposure.
Under the terms of the deal, Betsson's logo will appear on Racing's men's and women's First Division football teams' shirts. The partnership encompasses the upcoming 2023-2024 season and the Swedish brand's logo will be positioned on the upper back of the shirts and will be available for all international and local matches. Racing's match against Vélez scheduled for Friday, May 19, 2023, for the Argentinian League, will mark the debut of Betsson's logo.
With the new sponsorship deal, Betsson plans to further solidify its footprint in Latin America. The announcement comes at a time when the region has seen outstanding results in terms of revenue with 23% year-over-year growth, based on recent results.
Ronni Hartvig, Betsson Group's Chief Commercial Director Officer, commented on the topic in a statement saying: "Racing Club plays a significant role in the local league and in international cups, delivering a solid brand exposure for Betsson, locally, across the LATAM region and even more." Finally, the Chief Commercial Director Officer explained: "We are excited about the opportunities it will bring, and we are thrilled to providing Racing fans with an unforgettable experience."
The collaboration between Betsson and Racing Club de Avellaneda was announced at a press conference which was attended by Betsson Group's Country Manager Argentina, Maximiliano Bellio, as well as Racing Club's President, Víctor Blanco. The duo agreed that the two organizations have similar values and share a passion for fair play and football, which reaffirmed their compatibility.
Jesper Svensson, Betsson Group's CEO, acknowledged that the new sponsorship agreement represents a unique opportunity for the brand to expand its presence in Argentina, which is a major market for the region. He added: "We are excited to start this journey with one of the most popular teams in Argentina." Finally, Svensson noted: "The club's history, its loyal fanbase, and the enormous potential of its squad made them the perfect team for us to support."
Blanco, Racing Club's President was similarly delighted about the collaboration. He explained: "Racing Club ensures extensive reach and visibility for some of the most influential brands in Latin America." Finally, Blanco said that Racing became the first Argentinian club to secure a deal with the famous Betsson brand.
Image credit: Betsson