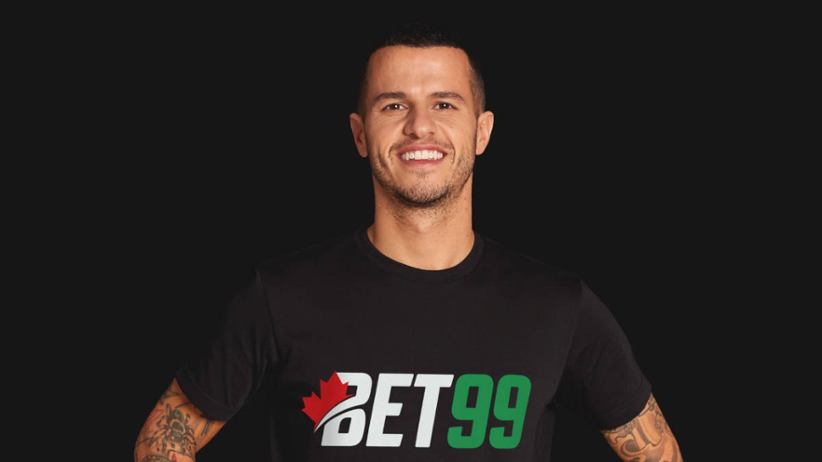 The leading casino and sports betting platform, Bet99, announced it expanded its roster of brand ambassadors on Wednesday. The brand revealed that it joined forces with the Major League Soccer star Sebastian Giovinco. Under the terms of the new deal, Giovinco was named an Official Ambassador for Bet99.
The international soccer superstar will participate in different activations via social media under the terms of his new collaboration with Bet99. Such activations will include celebratory fan giveaways of merchandise such as signed soccer balls. Additionally, Giovinco will participate in live appearances on Instagram. By becoming a brand ambassador for Bet99, the famous soccer star will also offer predictions and picks for matches from the 2022 World Cup.
As a brand ambassador with Bet99, Giovinco enables the brand to use his name and image for marketing, as well as advertising purposes. The brand will be able to leverage those during the World Cup and after the competition and engage with new and existing audiences.
A statement released by Bet99 explains that Giovinco will "post pre-game and halftime hits, led by OneSoccer writer and sportscaster James Sharman, and which will be shared on all BET99 channels, including BET99TV." He will also join the brand's Soccer House watch party planned for November 27, 2022, at The Firkin on Bay Street, a sports pub in Toronto.
Sharing his excitement, Giovinco acknowledged that the collaboration with Bet99 represents a unique opportunity and comes at the perfect moment. He added: "As the World Cup heats up and Canada makes a run for the first time in 36 years, I'm really excited to join a truly Canadian online sports betting company in rooting for the team." Finally, he revealed that it is an honor to join Bet99's growing roster of ambassadors.
As a leading operator in Canada, Bet99 has active collaborations with multiple sports figures. Before joining forces with Giovinco, the company teamed up with NHL All-Star Auston Matthews, Alysha Newman, a two-time Olympian, as well as UFC Hall of Famer Georges St-Pierre. Bet99 has active deals with Postmedia and CF Montreal, among other sports-facing organizations.
Jared Beber, Bet99's CEO, said about the latest collaboration that the brand is excited to add the famous soccer star Giovinco to its list of ambassadors. In conclusion, the company's boss said: "His stature and record in the Canadian and international soccer community is unparalleled, and the insights and excitement that he'll bring to Team Canada, our players and our platform is a game-changer."
Image credit: Kings Entertainment Group Inc.