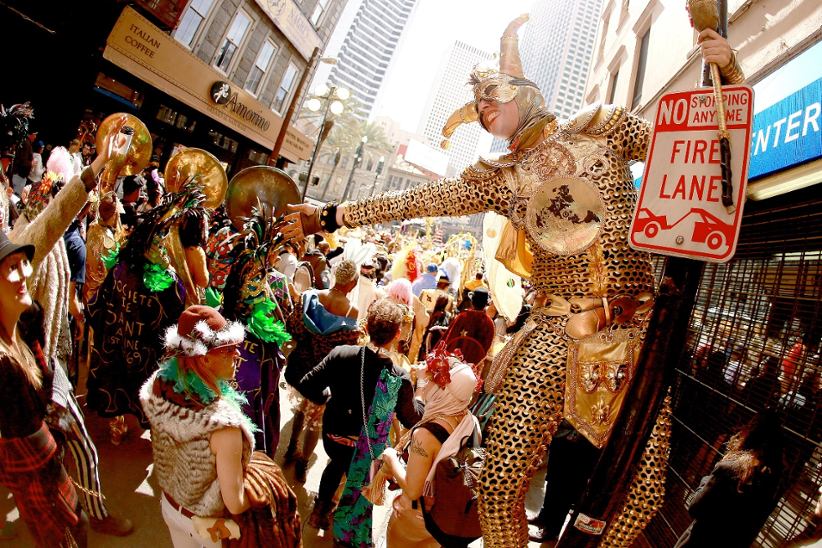 COVID-19 restrictions have been softened in New Orleans after Mayor LaToya Cantrell ended the requirement for New Orleans' locals and visitors to wear face masks in public. The change comes just in time for the Halloween weekend and, with it, the city will permit several types of negative COVID-19 tests as alternative options to getting the vaccine.
Today, the new rules go into effect and, therefore, include Halloween. The changes are a consequence of the decisión reached by Gov. John Bel Edwards, who earlier in the week decided to end the mask mandate in the state.
The steep decline in coronavirus cases in New Orleans has led authorities to become more willing to soften stringent rules in Louisiana for masks and vaccines.
The new rules allow for masks to not be a requirement inside restaurants, bars, stadiums, gyms and other public places. However, masks will still be required in hospitals and other health care premises for people over two years old, as well as public transport and K-12 schools.
The governor has authorized antigen testing in place of negative PCR testing as proof of vaccination when entering businesses. This is viewed as positive, as PCR testing, although considered more accurate, requires days for results to be obtained. Antigen tests, on the other hand, take less than thirty minutes, enabling un-vaccinated clients to prove their negative status more quickly and easily.
COVID-19 is on the decline in Louisiana, and this move forward is a logical consequence that will benefit indoor businesses and establishments. The new regulations that have started today should offer results in the next two weeks as to whether they should be continued or not since the coronavirus takes up to two weeks to show symptoms. However, authorities are confident that no upsurge in positive cases will be seen.
According to Dr. Jennifer Avegno, director of New Orleans' health department, "The indoor mask mandate that was in place over the past several months helped us reduce the surge in cases we saw due to the Delta variant."
Nonetheless, she urged caution to people in the city after the New Orleans Krewe of Boo parade took place last Saturday, with thousands of participants congregating in the downtown area for the first parade ever since the pandemic started.
1,200 people were surveyed at the parade by the staff of the city's health department and volunteers to ascertain whether the event will have resulted in a rise in cases. Participants in the survey will be called in two weeks' time to see if they have contracted COVID-19.
The results of this will serve as a test for the decision to be taken regarding Mardi Gras parades.
Image source: Getty Images