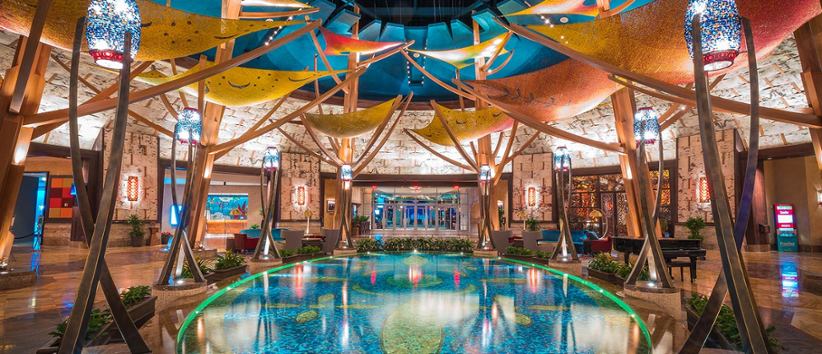 Mohegan Gaming and Entertainment is looking for more ways to bring traffic to its casino floors and the introduction of new gaming solutions has always been uppermost on the company's mind. Now, the Connecticut property, which is one of the company's best performing, will deliver on an exciting new link-slot game that will enable consumers to win bigger sums as they visit their favorite casino or any of the linked locations for that matter.
The property is also the first in the entire northeast to introduce the Dragon Link HD in-house progressive slot game, which is the handiwork of Aristocrat Technologies. The slot machines are already installed on-site making it a worthwhile addition to the existing casino floor, which features no fewer than 5,000 slots on its own. The new games are installed in the high-roller section of the casino and they are bound to be a hit with players, Mohegan Gaming and Entertainment expects.
The Dragon Link HD comes with a $1 million progressive jackpot that can be won by betting anything between $25 and $2,500. The machines will be linked between themselves, enabling players to jointly contribute towards the payout. The jackpots can be raised just from the gaming clocked in on the casino's property.
Speaking about this new addition, Mohegan Sun President and General Manager Jeff Hamilton said that the in-house progressive games were a unique experience and the casino itself was the first place in the northeast where people could experience them for themselves.
"Mohegan Sun regularly has jackpots that exceed $1m and these new Aristocrat games will certainly contribute to more," the executive added. The company is trying to stay in the public eye with a series of important initiatives. Not least, there is the Mohegan Sun Casino which features 300 table games to go along with the thousands of slots on-site.
Mohegan Gaming and Entertainment recently appointed Heather Menzano as its Vice President of Web Communications, reflecting the company's desire to stay in touch with its audiences and as a way to boost the digital channel revenues.
Mohegan Gaming is committed to maintaining its recognizable land-based gambling footprint while investing in cutting-edge technology, digital solutions, and experiences that will ultimately benefit the consumer. This is precisely why the in-house Dragon Link HD progressive jackpot is now part of the Connecticut venue.
Image credit: Mohegansun.com