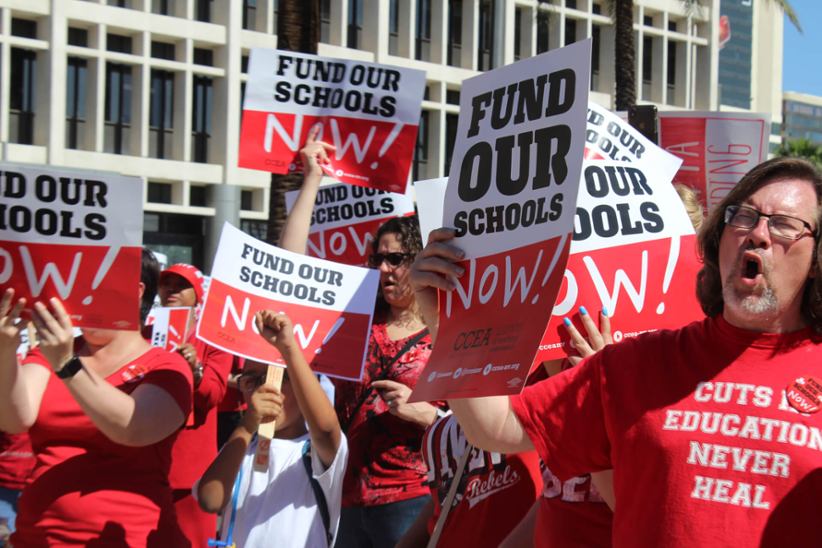 The
Clark County Education Association
(CCEA) doesn't want voters to weigh in on a tax hike request this November. The teachers union
filed a lawsuit
on Monday against Secretary Barbara Cegavske to try and get it removed. Cegavske has said that the tax petitions should be retained on the ballot for 2022 despite the CCEA's attempts to remove them. The lawsuit requests that the court issue an order to direct her to withdraw the tax petitions.
This is the latest chapter in an ongoing battle over petitions that seek to raise the gaming and sales taxes rates in Nevada. CCEA-supported political action committees filed the petitions almost two years ago to increase revenue for Nevada's K-12 public schools system.
One petition would increase the state's gaming tax from 6.75% to 9.75%. The other petition would increase the Local Support Tax rate from 2.6% to 4.1%. It would also raise the state's baseline sales tax to 8.35%. Initial estimates by the union indicated that tax increases could bring an additional $1 billion to public schools.
The petitions served as a bargaining chip, forcing legislators to address education funding in light of the imminent threat of major tax increases.
These initiatives passed the threshold of voter signatures to be sent to the Legislature. However, no action was taken in the 40 days preceding the 120-day session. They were set up to be put on the state ballot for consideration by voters.
However, lawmakers in the state passed legislation, signed by Governor Steve Sisolak in June, that increased the mining tax revenue in order to support public schools. It is expected that the mining tax increase will bring in $165 million for the current biennium.
CCEA sent a notice to Cegavske, who is responsible for overseeing state elections, requesting that she withdraw the tax petitions from the ballot due to the last-minute legislative agreement.
However, there was disagreement about this action. Aaron Ford, a state Attorney General, wrote an affirmative opinion, noting that the Nevada Constitution doesn't prevent proponents from withdrawing a petition.
Cegavske wrote a contradictory view pointing out the Constitution's use of the word "shall" in a section about petitions. She claimed that the inclusion of the word "imposes an obligatory, not discretionary obligation" to keep the petitions on the 2022 ballot.
The CCEA claims that Cegavske does not have the legal authority to deny petitioners their request to withdraw their initiative petitions. Therefore, they want a court judge to direct her to do so.