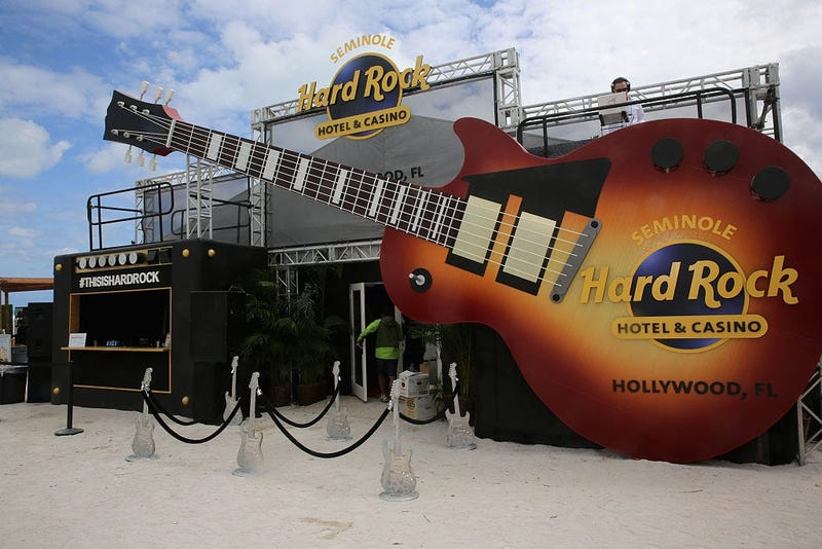 Hard Rock International and the Seminole Tribe of Florida have signed agreements as part of the preparation for launching a mobile sports betting app in the state. The agreement was reached with five pari-mutuels, which have entered a marketing deal with the tribe. This is part of the preparation for the launch of the Hard Rock Sportsbook, although there's still no official date for the state to introduce legal sports betting.
The Governor of Florida, Ron DeSantis, and the Chairman of the Seminole Tribe, Marcellus Osceola Jr, signed a new gaming compact earlier this year that was, in May, ratified by lawmakers. The US Department of the Interior, not without some controversy, signed off on the compact in August.
The courts are still deciding if mobile sports betting will be legal in the state, but the Seminole Tribe has already moved forward with the partnership of the five pari-mutuels that will feature the Hard Rock Sportsbook app. They are Hialeah Park Casino, Palm Beach Kennel Club, TGT Poker and Racebook, Ocala Gainesville Poker and Tampa Bay Downs.
The deal will see the pari-mutuels get 60% of the profits due to their marketing activities online through the Hard Rock app, with the Seminole taking the remainder. Additional pari-mutuels are expected to be signed in the coming months.
Besides the revenue contributions to the state, the tribe will hire hundreds of people in Florida, as well as invest millions of dollars in Florida, according to Osceola. The compact will bring in $2.5 billion in revenue during the next five years. It also brings in pari-mutuel businesses in Florida together with the Seminole Tribe, with greater access to safer and more transparent betting in the state of Florida.
So far, the state has received its first monthly revenue sharing from this Seminole Tribe compact deal in October after receiving $37 million.
According to Jim Allen, CEO of Seminole Gaming and Chairman of Hard Rock, the inclusion of pari-mutuel partners is beneficial because these are an important component for the launching of sports betting in Florida.
Hard Rock Sportsbook increases its assets of the Hard Rock brand in Florida. In this state, it has two hotel-casino complexes, one in Tampa and the other in Hollywood, which are getting ready to debut retail sports betting. They will be joined by four other Seminole Casinos in Immokalee, Brighton, Hollywood and Coconut Creek.
Image source: Getty Images