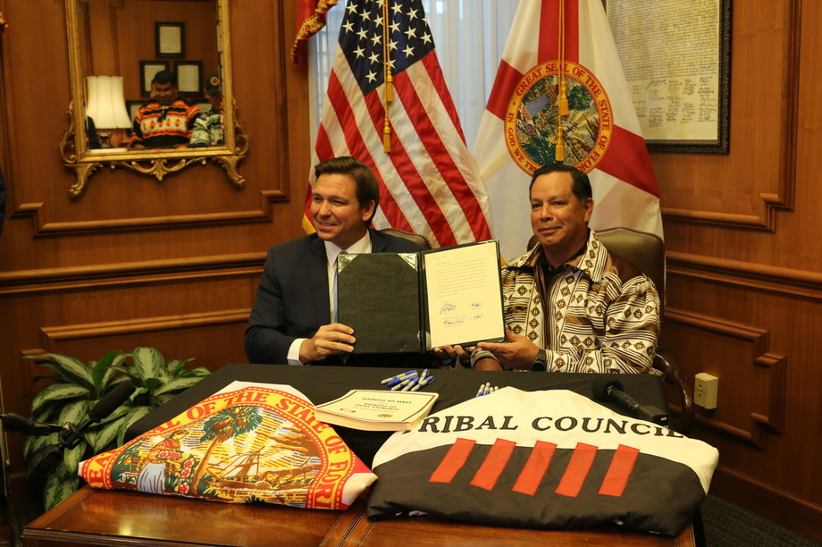 A federal judge has dismissed a lawsuit that attempted to deny the Seminole Tribe of control of sports betting in Florida.
Governor Ron DeSantis and the Seminole Tribe were winners after the judge dismissed the lawsuit that challenges a gaming compact that enables the tribe to have a virtual monopoly on sports betting in the state of Florida. This deal permits the tribe to manage sports betting for bettors in the state who can place online bets.
The lawsuit was filed by the owners of Bonita Springs Poker Room in Southwest Florida and Magic City Casino in Miami-Dade County, both of which are pari-mutuel facilities. This lawsuit was filed in July, and lawmakers in the state passed a wide-scope gambling deal between Florida and the Seminole tribe.
The pari-mutuels indicate that federal laws may be violated if people are allowed to place sports bets off tribal establishments in the state. They say that online sports betting will harm their business by eroding their customer base, and this will make them lose money.
Attorneys representing DeSantis and Florida Secretary for Business and Professional Regulation Julie Brown requested that District Judge Allen Winsor dismiss the lawsuit because the pari-mutuels cannot challenge the compact because they can't prove they have been harmed by it. Winsor agreed with the State in a 20-page ruling against the pari-mutuels this past Monday.
Among other things, the pari-mutuels cannot sue the Governor or the Secretary because it is not possible to trace any harm to their activities. The conclusion is that the pari-mutuels are not negatively affected by the ability of the secretary to supervise the casinos of the tribe or submit audit reports.
Winsor also stated that the plaintiffs could not prove that their claim of potential harms was traceable to the Governor of the state.
DeSantis and the tribe signed a new gaming compact last April, and state lawmakers ratified it in May. The compact states that bets can be made anywhere in Florida utilising a mobile app or other electronic device and will be considered conducted exclusively by the tribe.
The compact permits the tribe to offer online betting, but it has not yet launched its operations, partially because of this lawsuit and two others still pending. Although it is not clear when sports betting will be possible for gamblers in Florida, the Seminoles have hailed this ruling by Judge Winsor.
The Havenick family has owned pari-mutuel facilities for over fifty years.
Image source: Governor's press office