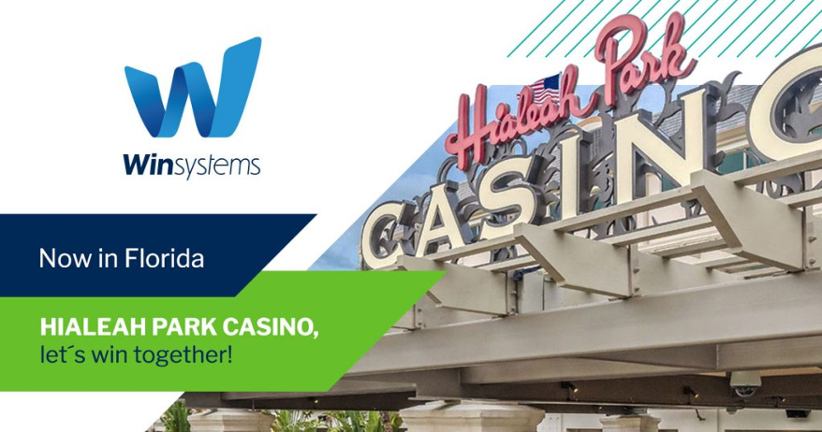 The leading supplier of technology for the gambling and entertainment industry, Win Systems, announced a new installation in Hialeah, Miami, Florida. On Monday this week, Win Systems revealed it installed its leading product, the Gold Club Lumina electronic roulette at the Hialeah Park Casino.
The new collaboration marks an important milestone for Win Systems, considering the popularity of the Hialeah Park Casino. At the same time, the new Gold Club electronic roulette installation is the first for Florida.
Chad Dickie, Win Systems USA's EVP & GM, commented in a statement released on October 17, 2022. He said: "We are honored and proud that casinos like Hialeah Park Casino trust our extensive experience and bet on our Gold Club electronic roulettes." Last but not least Dickie said: "We are living in a great moment for Win Systems in the United States, not only with our WIGOS management system but also with our gaming products."
Win Systems is a company with more than 25 years of experience within the gambling and entertainment industries. Its goal is to offer best-in-class casino management systems, as well as gaming machines and other easy-to-integrate services and solutions. Ultimately, Win Systems plans to become the go-to supplier for gambling venues regardless of their size.
Currently, Win Systems operates in more than 60 countries around the world and has a team of more than 380 dedicated professionals. The company's innovative services help power the operations of hundreds of operators within different global jurisdictions.
"Win Systems would like to thank Steve Calabro, Javier Fernandez, and their entire team for facilitating the installation of the premium electronic roulette, which is outstanding by its modern, compact and ergonomic design, which will undoubtedly catch players' attention," the company wrote in a statement. Additionally, the operator acknowledged that by introducing its leading product to Hialeah Park Casino in Hialeah, Florida, it boosted its ongoing growth strategy for the US market.
Hialeah Park Casino is a premium casino location in South Florida. The venue offers some of the latest and most popular machines on the market. Now, thanks to the recent deal with Win Systems, the land-based venue added electronic roulette, but visitors can also enjoy electronic blackjack.
Fans of poker at Hialeah Park Casino can enjoy Texas Hold'em, Omaha Hi-Lo and 7 Card Stud, among other games at one of the 26 poker tables. What's more, the venue's poker room offers a full bar complemented by a luxurious outdoor terrace.
Image credit: Win Systems