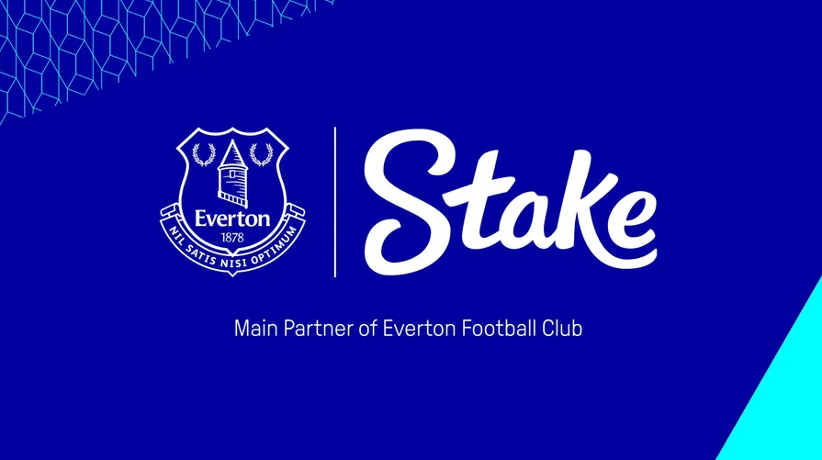 The English professional association football club that competes in the Premier League, Everton Football Club, announced a groundbreaking partnership with Stake.com, the leading casino and sports betting platform.
The new multi-year collaboration between Everton and Stake.com marks the highest front-of-shirt deal in the club's history. Under the terms of the new deal, the brand will be the Club's main partner and will be featured on the front of the women's and men's playing shirts.
The terms of the deal will also help with brand exposure by featuring the brand within Everton's digital platforms. Land-based activations such as screens and media backdrops at the Club's stadium at Goodison Park and its training ground at Finch Farm are also a part of the new deal.
In a statement released on Thursday, Everton's Chief Executive, Professor Denise Barrett-Baxendale, said: "Stake.com is an ambitious organization with impressive growth plans and we're all very excited to enter into a partnership with them at this stage in their journey."
She commended the Club's new Revenue Team which worked tirelessly to secure the biggest partnership deal in its history. Professor Barrett-Baxendale thanked Stake.com for their trust when selecting Everton for the multi-year partnership.
In conclusion, she said: "Finally, I am pleased to say that we have already been working together with Stake.com on some exciting activities and content for our local and international supporters and we look forward to sharing more detail on these plans soon."
It was back in 2017 when Stake.com was first established. Since then, the casino and sports betting platform became a leading global operator. Millions of users selected the platform that offers secure services and a wide variety of sports betting and casino products. What's more, Stake.com is also licensed by the UK gambling watchdog, the Gambling Commission.
The recent collaboration between Stake.com and Everton reaffirms the iGaming operator's growing sports portfolio of partners. Currently, Stake.com is an Official Betting Partner of the UFC for Asia, Latin America and Brazil. Additionally, the brand has a growing portfolio of globally recognizable ambassadors that includes the actor and rapper Drake, Argentina striker Sergio Aguero as well as UFC champions Jose Aldo and Israel Adesanya, to name a few.
Speaking about the recent deal, Stake.com's Head of Acquisition, Akhil Sarin, said: "We are incredibly proud to be partnering with Everton, a club steeped in tradition and with a passionate and loyal fanbase respected the world over."
He explained that Everton is a perfect fit, considering the company's growing ambition to increase its global presence and expand its sports sponsorship collaborations. Sarin pointed out that joining forces with Everton is an honor. In conclusion, he said: "We look forward to celebrating this most exciting chapter in the Club's history with Evertonians everywhere."
Image credit: Everton FC