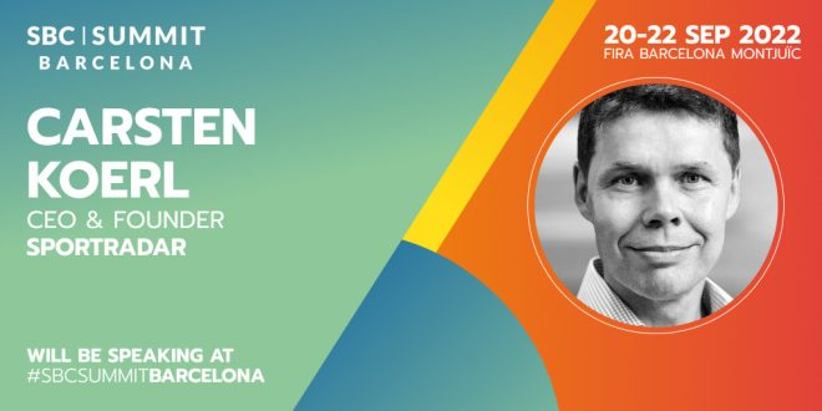 Sportradar Founder and CEO Carsten Koerl will deliver a keynote during this year's SBC Summit Barcelona held at the Fira de Barcelona Montjuïc on September 20-22. He will co-host the keynote with Simon Bold, a Sports Betting Hall of Fame member, who will also be the one asking the questions in a live interview.
Bold himself has made significant contributions to the sports gambling industry, having helped establish telephone betting and virtual racing and generally contributed to the industry's development in Gibraltar. During the "Insights from the CEO of Sportradar" keynote, the two men will discuss a range of topics that go back to the roots of the industry and double down on its future.
As a leader of one of the most sophisticated data companies in the world, Koerl is well-poised to provide information on the history of the industry and the outlook for global markets. Sportradar is also a trusted partner in the sports ecosystem, providing solutions to leagues, teams, and betting companies.
SBC Summit Barcelona has touted Koerl as one of the most important delegates attending the late-September industry meet-up. His experience in the industry spans decades of hard work. Koerl is known for another brand, too – Bwin, which he helped found and build from the grounds up.
Commenting on this keynote, SBC CEO and founder Rasmus Sojmark were excited about the event and Carsten's own participation in it, describing the man as a special guest. "Sportradar continues to be one of the most reliable and innovative presences in the industry, and the chance to hear its founder's thoughts on the future roles of technology and data is sure to prove hugely valuable for all attendees," he added.
Sportradar will be well represented across the event's floors besides the keynote speech as Dalraj Bahia, the Managing Director, Operations Betting & Gaming will participate in the "How to Choose a Technology Partner" panel and Strategy Director Mike Falconer will be involved in the "Knowing When to Engage Players" discussion, and generally be felt across the "Sports Betting Zone."
Image credit: SBCNews.co.uk