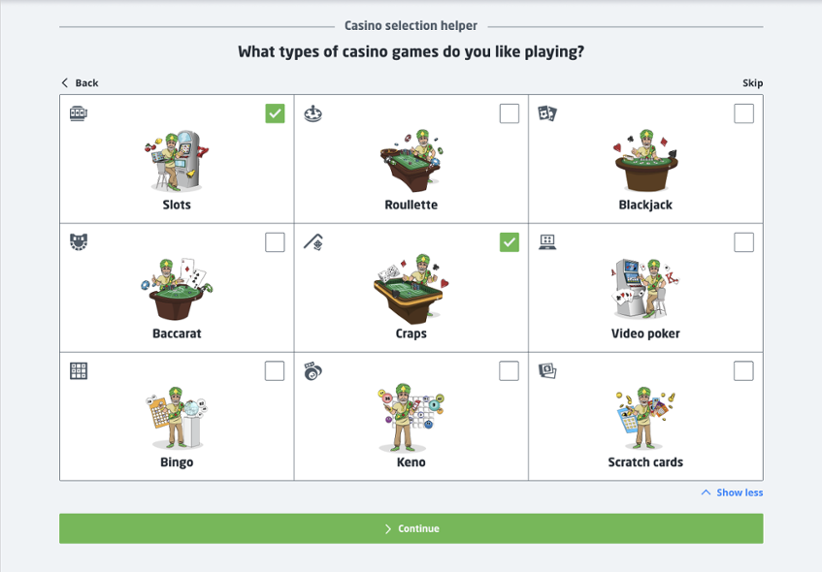 Casino Guru, the definitive online database for iGaming and online casino content, educational materials, and industry innovation, has made another step in empowering players and enabling them to use the website's vast data trove to make the best informed decisions for themselves.
This is possible through the introduction of the Casino Selection Helper, a new tool that uses intuitive fact-based queries to calibrate the search for a new online casino based on specific user preferences such as available games, desired type of promotions, how new a casino should be, and even a quick quiz that can help you decide if in doubt.
The website takes you through these three questions while accounting for your location to guide you to the best possible choice based on player-provided answers. Casino Guru prefers not to limit player choice and while picking a website that is deemed best, two additional websites are listed as possible options for players to explore.
The new functionality complements the growing array of tools that Casino Guru has mustered over the years to empower casino players. Casino Guru Head of Content Maros Gasparik has commented on how the Casino Selection Helper was borne. Gasparik explained that the database collected by Casino Guru has also been overloading on occasion, making it necessary to come with an intuitive way to resolve this. With the solution at hand, Gasparik added:
"With hundreds or even thousands of casinos available to players from certain countries, it can be a haunting task for players to select the best one for them. We are always looking to make this process easier and guide players to the best option quickly and easily, and the new Casino Selection Helper is one of the things we hope can help them choose well and stay away from unscrupulous sites."
Gasparik acknowledged that the tool is far from its final version. These questions are based on insight into consumer preferences and should be sufficient for most players. However, he acknowledged that Casino Guru is already working on plans to further fine-tune the tool, improve the selection process and introduce more questions so that players may adjust their searches to specific preferences.
The first stage will be focused on assessing user response with later stages enacting changes based on feedback. At its core, Casino Guru remains committed to developing the tools and means necessary for players to enjoy a safer and fairer gambling environment.
Casino Guru is actively working on the Global Self-Exclusion Initiative, an ambitious and all-encompassing initiative intended to create deep and long-lasting changes to the gambling industry insofar as player safety is concerned. The website is also seeking to aid players who have been wronged by brands and operators to seek a positive resolution of a problem through the dedicated Complaint Resolution Center.
Image credit: Casino Guru