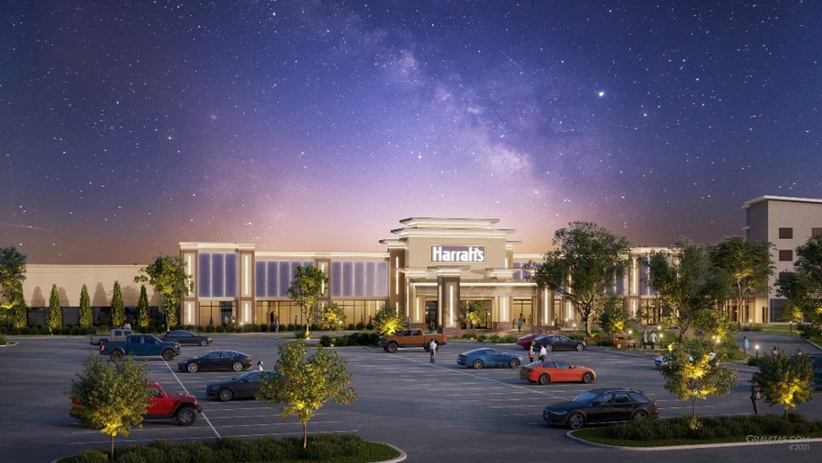 Global gaming and hospitality giant Caesars Entertainment has revealed new artistic drawings of its upcoming project in Nebraska. The property, which is expected to host more than 500 slot machines and 14 table games, is going to be the first land-based venue operated by the company to open doors in the Cornhusker State.
The venue will feature both a sportsbook and casino grounds that will sprawl on 28,000 sq ft of dedicated space. Caesars is working with Columbus Exposition and Racing to bring the project to realization and the property is fittingly called Harrah's Columbus, NE Racing and Casino. Both partners are working to introduce visitors to an outstanding experience that will provide them with access to a variety of amenities.
This includes a Brew Brothers restaurant and a dedicated bar space. Columbus Mayor Jim Bulkley welcomed the latest artistic renditions of the upcoming project and praised the level of detail and what it would mean to the community, too, cited by the Omaha World-Herald, a local newspaper. The casino is not the only project that is arriving on-site, though, as the casino will also be connected to a Marriott Fairfield Inn and Townplace Suites – this project is also under development.
Before the official property and casino get underway in H1 2024, though, Caesars Entertainment is expected to set up a temporary casino at Ag Park. This should happen in a few months' time. The temporary casino will also have a respectable selection of gaming options, with 200 brand-new slot machines and betting options available on-site. Speaking of sports and horse betting, Caesars Entertainment SVP of Racing Joe Morris said:
"We're thrilled to contribute to that history and bring an all-new, one-mile racetrack for the community to enjoy."
The track Morris is talking about is a new thoroughbred track addition, and the longest in the state, to the permanent casino location which will be arriving next year. The permanent location of the casino and the racetrack is estimated to cost Caesars $75m and it will be located at the former Wishbones/Columbus Events Center. Still, Caesars Entertainment will also need to obtain the necessary license to have the racetrack in place, as Nebraska is particular about the locations of these facilities and any changes to existing infrastructure.
The project is possible after voters in 2020 decided to greenlight casino gambling at the state's existing racetracks – currently six such properties. However, Caesars' plans for the Columbus property have shrunk a little since the original pitch in 2021, which may have been necessitated because of pressure on land-based operations caused by the pandemic.
Image credit: Caesars Entertainment