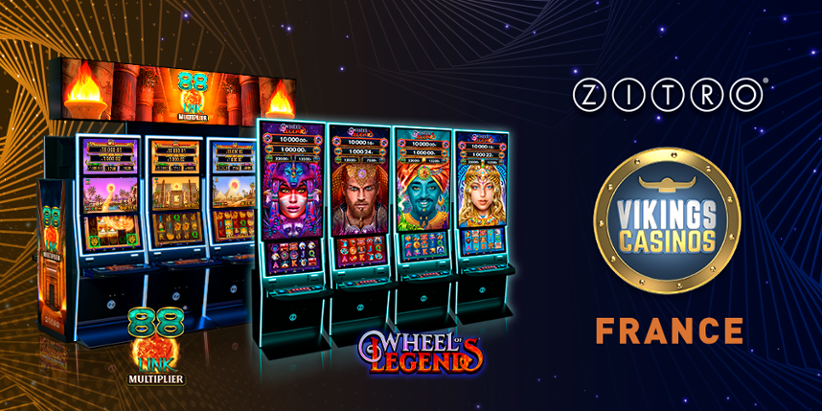 Zitro, a manufacturer of premium gaming cabinets that feature slot and bingo games, has expanded its reach in the French market through a partnership with Groupe Vikings. As a result, Zitro will bring a number of its most popular games to Groupe Vikings' players with both 88 Link Multiplier and Wheel of Legends featured on the gaming floors belonging to the group.
Fréjus and Bussang, two of Vikings' most important properties, are said to be among the first recipients of these products, Zito confirmed in the official press release. Both properties will now benefit from products that have been crafted with the idea of driving player engagement and opening up new gameplay opportunities.
Commenting on this particular tie-up, Zitro Regional Director for EMEA, Nadège Teyssedre, said that 88 Link Multiplier and Wheel of Legends should enjoy a warm welcome at Groupe Vikings' properties, owing to their outstanding graphics and in-depth game mechanics. The games, focused on delivering worthwhile play through careful math calibration will no doubt be proper additions to Vikings' casinos' floors, Teyssedre said confidently.
"It is a great opportunity to introduce our games in the casinos of this leading group, and we appreciate the involvement of their team who, together with Zitro, have made the installation process a success," the executive added, outlining the significance of this partnership.
The partnership was welcomed by others as well. Groupe Vikings General Director Christian Huby recognized the potential of the partnership and spoke strongly about the immersive and engaging gaming opportunities made available to players owing to Zitro's tailored and bespoke offer.
Huby added that the company was now looking forward to seeing how existing customers would take to the new Zitro additions, but remained largely positive that this partnership will be the beginning of a long-term collaboration. Zitro's own production efforts over the past years have focused heavily on ensuring that it maintains the highest industry standards.
Part of this has been the reduction of the company's carbon footprint through the implementation of a new action plan. Zitro has been able to strike other partnerships over the past weeks as well. The company's GLARE family cabinets were introduced to BINGO Leganés in Madrid, Spain.
Zitro further introduced its Wheel of Legends at Grand Casino Odiseo in Murcia in July. It added the 88 Link progressive multi-game at Cirsa's casinos in Valencia and Marbella and has generally been building up its footprint and reach in the European market and beyond.
Image credit: Zitro