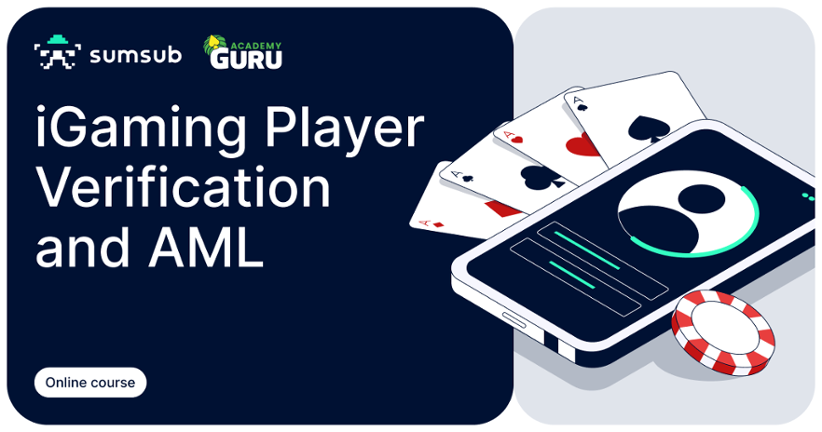 Casino Guru and Sumsub continue to collaborate actively as they seek to establish better standards across the industry and demonstrate to stakeholders the importance that AML and KYC practices and policies play in the sustainability of online gambling. To this end, the two companies have collaborated on the "iGaming Player Verification and AML," an ambitious free piece of education course that is meant to help companies better understand AML and KYC requirements & gambling compliance.
The course is developed by Casino Guru Academy, an advanced and trusted online repository of various educational materials that strives to help educate businesses and consumers about sustainable and responsible gambling in the online casino sector.
This is the fourth course released by the Academy and it focuses tightly on teaching casino businesses how to promote fairness, better protect their players from gambling-related harm and generally advance their understanding of compliance.
Sumsub's help in the course has been invaluable as the company's compliance experts have offered data-driven insights. Businesses will learn more about AML-compliant user verification flows while maximizing gains for their operational results through a high rate of conversions. Sumsub already boasts impressive conversion rates of 91.64% in the United States and 95.86% in the United Kingdom. In Brazil, this number is 90.98%.
The course also covers some basic mistakes that companies tend to do, and the course focuses on how those mistakes can be avoided. There are additional materials teaching course-takers how to deal with problematic player behavior, and a handy identity verification checklist to help further guide KYC practices and help protect customers on their player journey as well as offer companies a strong purchase when maintaining a high pace of operation.
Andrew Sever, Co-founder and CEO of Sumsub, was thrilled with the news and said: "Joining forces with Casino Guru to create an online course for casinos and gambling operators is the perfect opportunity for Sumsub to share our compliance, anti-fraud and verification expertise with industry players, as well as promote fair and responsible gambling. This contributes to making the online space safer for everyone–an ambitious goal that truly aligns with our company's mission. The recommendations our experts share in the course will help businesses avoid painful fines and reputational damage."
The news was met equally well by Casino Guru Sustainable & Safer Gambling Lead Šimon Vincze who said: "At Casino Guru, we strongly believe that education is one of the main pillars of sustainable and safer gambling. That's the main reason why we decided to create the Casino Guru Academy in the first place – to reflect our experience from dealing with player complaints and share that knowledge with the rest of the industry. We're happy that Sumsub has decided to contribute to this player verification course, as their expert knowledge and experience has proven to be invaluable for it. And since all of our courses are free, I hope this one brings great value to anyone looking to expand their knowledge."
The academy remains an important source of free professional courses that are focused on best practices when dealing with customers or promoting the principles of safe & responsible gaming and player experience across the entire online gambling industry. You can find out more and enroll in the course here.
Image credit: Casino Guru/Sumsub