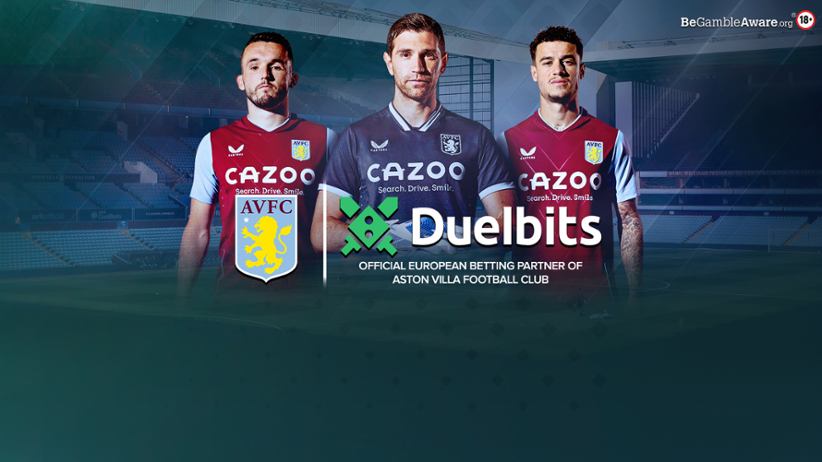 Cryptocurrency companies and sportsbooks have long flooded English football as sponsors of many beloved teams. While fans have not always received such partnerships with equanimity, the number of brands investing to have their logos displayed on player shirts has not been getting any smaller.
The latest partnership between Aston Villa and crypto casino and sportsbook Duelbits is a continuation of this trend. The club has revealed the new tie-up on its official website, speaking about the parameters of the deal and the motivation behind this move. Duelbits will receive circumference exposure through LED boards at Villa Park, Aston's home stadium. The press release makes no mention of shirt signage.
Aston Villa Chief Commercial Officer Nicola Ibbetson welcomed the partnership opportunity and said that he was pleased to see Duelbits join the "family of partners." He added that Duelbits made it very clear from the start that the team and company share a desire to grow.
This sentiment was shared by Duelbits Chief Marketing Officer Marco Pinnisi who added that the company is run by individuals who are passionate about iGaming and sports. "We launched our sportsbook in late December 2021 with the product being completely developed in-house by a team of leading industry experts," Pinnisi said.
The executive said that Duelbits was well-positioned to offer fans a state-of-the-art sportsbook experience. Through the Aston Villa partnership, the brand can achieve further visibility and strike home with Premier League fans. Pinnisi confirmed that Duelbits was confident that the company wanted to raise brand awareness by finding the right partner among Premier League clubs.
The company assured that despite the company being young in years, it would present sports fans with a great new generation of sportsbooks. Being part of the Aston Villa family is a welcome opportunity, Pinnisi concluded. Duelbits is a UK Gambling Commission licensed operator.
Yet, the deal flies in the face of a recently discussed ban on gambling sponsorships in the Premier League. For its part, the organization wants to see clubs opt out of such partnerships and phase them gradually before completely banning them. Last month, it was expected that clubs would back the measure unanimously but at press time, there has been little new information about support for the measure or what discussions have been going on behind closed doors.
Many teams, sports personalities, and even team fans, including Brighton & Hove's legend Tony Bloom, have spoken against signing such partnerships. Multiple fan petitions have emerged, appealing to clubs to do right by their supporters and ditch the incendiary partnerships.
Image credit: AVFC