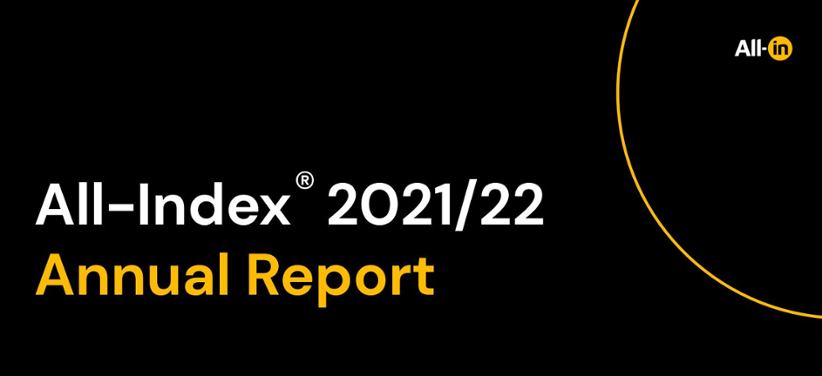 The latest report by All-In Diversity Projects has been published with the organization focusing on a range of matters, including the "Big Quit," the way the pandemic has changed the workplace, and diversity in the gambling industry, among other topics.
The 2022 All-Index Report on Diversity, Equality & Inclusion, which is the organization's third edition, has looked into how diverse the industry is and whether there are angles to explore that can improve the current status quo.
Mostly, the report has found out that the male to female ratio has fallen in the workforce, with 56.23% of workforce members now male and 43.75% female. The executive board is still dominated by men with 71% to 29% while the non-executive board is split 68% to 32% in favor of men. While these raw numbers are down from the 50:50 split reported in previous reports, there are definitely good examples to draw upon.
The report reached out to a number of established gambling and sports betting giants. Sky Betting & Gaming told All-In that its new head office in Leeds has been designed with the help of the Center for Accessible Environments, which did an audit of the facility. The goal, the company explained, was to make sure that all present and future Sky Betting & Gaming employees will feel well.
The Leeds office features a number of amenities, including a faith room, medical room, gender-neutral toilets, 20% sit-stand desks, and quiet zones on every floor. Kindred Group has spoken about how it collected information about important holidays, such as Black History Month, Mental Health Week, Diwali, Pride, and others, to support members of the staff to whom these calendar days are important.
Meanwhile, IGT has been working hard on women-centric programs seeking to elevate and enhance its own company structure and foster diversity and inclusion. Others, such as Penn National Gaming, have announced ambitious and far-reaching projects such as the Diversity Scholarship Program, which is funded by the company to the tune of $1 million, awarding a total of 58 students with scholarships.
Ranking the results, gambling operators were assessed based on what All-In considered to be best business practices. Sky Betting & Gaming topped the list with 85 out of 100. The company was followed by Kindred with 79 and IGT with 78. Light & Wonder and Penn National Gaming still have some way to go with 73 on the index.
Image credit: Unsplash.com