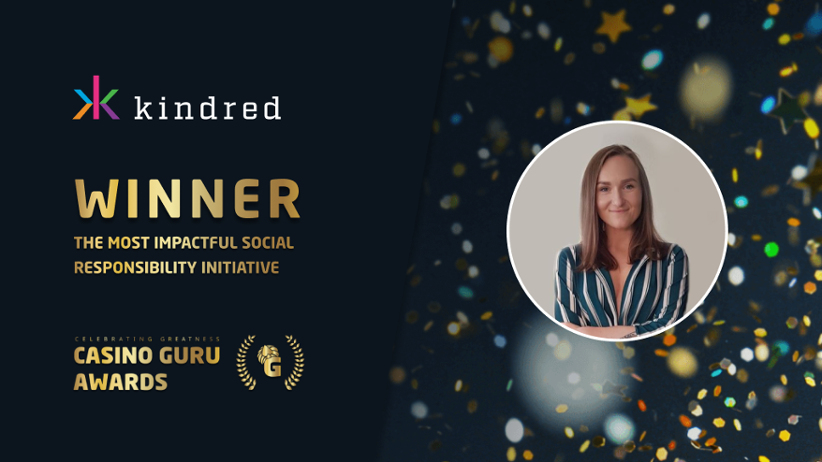 Kindred Group has emerged as the winner of "Most Impactful Social Responsibility Initiative", part of seven categories at the inaugural Casino Guru Awards in 2023. Today, we speak with the group's Responsible Gambling Relationship Manager, Daria Magdoiu, who discussed the responsibility gambling companies have towards the sector and consumers, the changing attitudes within the industry and what improvements can still be made.
Q: Kindred Group has just won the Casino Guru Awards in the "Most Impactful Social Responsibility Initiative" category. How does this feel?
Winning "Most Impactful Social Responsibility Initiative" category is a great recognition to receive, as it reinforces all the positive impact that our work has not just on our customer base, but also on the wider society and within Kindred as well.
All the teams at Kindred work relentlessly towards our ambition of having 0% of our revenue derived from harmful gambling. This is a goal that we will never cease to work towards, and it's one of the catalysts for continuously striving to improve our detection system, our strategy, our intervention, all our Responsible Gambling tools and approach in general.
Q: Kindred is clearly a torch-bearer in the sector, and you have had experience dealing with different aspects of social responsibility and related initiatives. Do you think the public is becoming aware of the good that companies such as Kindred do?
Though our Journey towards Zero goal we are hoping to showcase that Sustainability, Transparency and Open discussions are really the best way forward. And through initiatives such as our yearly Sustainable Gambling Conference we provide a platform for operators, regulators, people with lived-experience, researchers, help-centers and other stakeholders, to connect and learn from one another in the hope that we can transform gambling into a more sustainable and trusted source of entertainment.
Q: Is the industry as a whole more concerned with responsible social initiatives today or is there still a reluctance among some of the bigger players?
We are definitely seeing an increased positive trend in the importance that is allocated to social responsibility within the gambling industry, however, there is of course enough room for improvement.
Us, operators, are all sitting on data goldmines, and we should try to put it to better use to help us improve the level of understanding that we have for our customer's gambling behavior, as well as improving the way we detect potentially problematic gambling activity, our intervention measures, and the way we interact with our customers. The key here is to collaborate and work closely with different stakeholders such as researchers, treatment centers and people with lived experience, as their expertise and feedback is proven to be highly valuable.
Q: What do you think other companies can do better if they were to follow Kindred Group's example?
I believe that if we all had the same elevated baseline to start from and focus on improving our practices and staying ahead of the curve, the gambling industry would be a far greater experience for the customers and all the stakeholders.
Q: How do you think responsible social initiative will impact the gambling industry in the long term?
Responsible Social Initiatives are crucial in ensuring a sustainable future for the industry, as well as increasing the much-needed trust. Putting our customer's and by extension the society's wellbeing at the core of everything that we are doing will have an immensely positive impact.
Q: Do you think the Casino Guru Awards have been helpful in setting good industry benchmarks, and what would you recommend improving in the format?
It was a great experience taking part in the Casino Guru Awards. The fact that the discussions and award categories levitated around many relevant topics was very well received.
Q: Is Kindred Group going to be a part of next year's Casino Guru Awards?
Yes, looking forward to seeing you next year and hopefully with the same positive outcome.
Image credit: Casino Guru