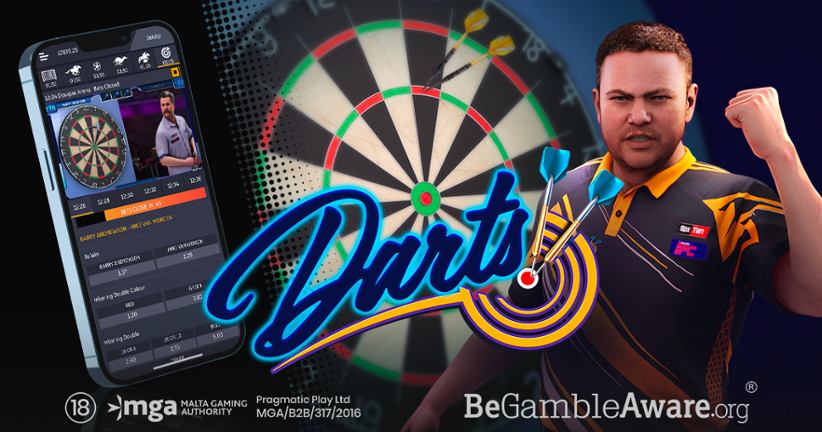 The leading developer and content provider for the online gambling industry, Pragmatic Play, announced Monday the launch of a new game title. The company revealed it expanded its collection of Virtual Sports games by adding a Darts game.
Pragmatic Play revealed that the new Virtual Sports Darts title combines realistic player movement, commentary and adds comforting background music. The game's cutting-edge animation creates an immersive and entertaining experience that helps online players get the thrill of a real darts tournament.
Although the game is by default in English, Pragmatic revealed that it can be changed to another language and currency to match the requirements of different local markets. At the same time, the leading developer explained that the new game title can undergo further customization such as changing player names and implementing logos. An incentive for the operators is also the option to change the stake limits as well as the RTP.
Virtual Sports Darts complements Pragmatic's growing portfolio of Virtual Sports titles. Previously, the company introduced more games from the same lineup such as Penalty Shootout, Horseracing, Fantastic League and Greyhound Racing, among other popular games. A unique trait for all such titles is that they can be played via "multiple devices through one single API," Pragmatic Play explained.
Irina Cornides, Pragmatic Play's Chief Operating Officer, shared her excitement about the latest announcement in a statement. She acknowledged that the company's Virtual Sports series created a vertical on its own which enjoys significant popularity. Cornides added that those leading titles continue to bring revenue for Pragmatic Play.
Focusing on the latest title, she said: "Darts is enjoying global popularity like never before, with the World Championship exceeding 1.2 million viewers in the UK alone." This, according to Cornides will help propel the popularity of the new game and deliver exciting experiences for darts fans to get closer to their favorite sport.
The new Darts title compiles a list of 24 players who "are required to play against every other competitor twice, alternating first throw rights," Pragmatic reveals. "Matches are played every two minutes to maximize revenue opportunities and all bettors view the same match and outcomes simultaneously across scheduled, fixed-odds tournaments, with each outcome decided by RNG," added the game developer.
The developer's release of the new Virtual Sports title coincided with the release of another game called Reel Banks. The fresh 5×4 reel slot features 25 pay lines and promises big payouts for customers.
Image credit: Pragmatic Play