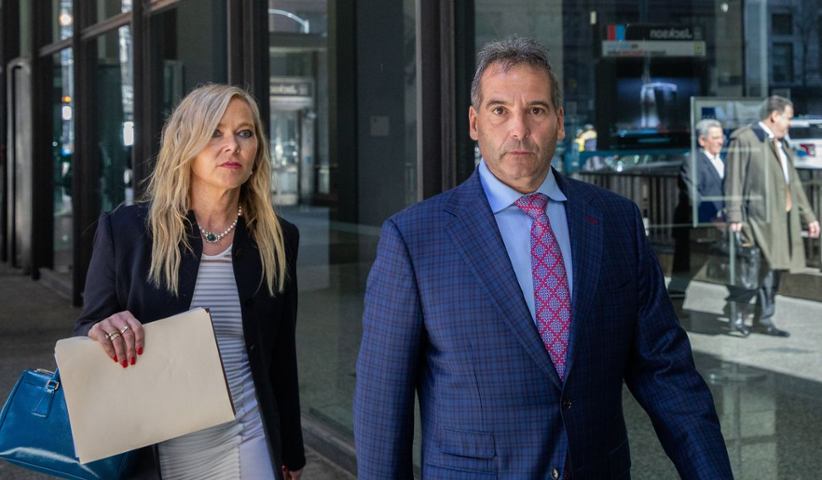 A federal judge sentenced on Wednesday a
man
who the feds claim ran the
biggest
, longest, and most
lucrative criminal gambling ring
in Chicago to 18 months imprisonment. US District Court Judge Virginia Kendall delivered the sentence to Vincent "
Uncle Mick
" DelGiudice at the end of an
hour
-
long hearing
at Dirksen Federal Courthouse, according to the
Chicago Sun-Times
. In addition, she ordered him to make financial restitution, including a
$3.5-million judgment
.
Kendall announced her sentence following the discovery that DelGiudice was involved in a gambling ring that reached Illinois State University. The ring also involved the corruption of at least two police officers.
DelGiudice expressed his gratitude to the judge earlier and said that he had made mistakes.
DelGiudice's sentencing is nearing the end of a case that prosecutors stated included around 1,000 gamblers and "millions of dollars." When then-President Donald Trump pardoned Mettawa, IL, Mayor Casey Urlacher, it caught the attention of White House officials.
DelGiudice, Urlacher, and eight other people were initially charged in February 2020 with conspiracy to commit gambling. Chicago's federal judge has also brought in three other related charges. Most of those accused have avoided prison.
The exceptions were Chicago Police Officer Nicholas Stella, who was charged with DelGiudice. He was sentenced to 15 months in prison and bookie Gregory Paloian received a separate sentence of two and a half years.
DelGiudice pleaded guilty to the charges in February 2021, admitting that he managed the ring. Federal agents called it a "massive and high-stakes crime" operation that also reached California, Arizona and Kentucky, and established a foothold in Illinois State University. They claim it earned more than $8 million in profit in 2018.
The feds raided DelGiudice's home in April 2019 and found over $1 million in cash, two cash-counting machines as well as gold bars, silver and jewelry.
DelGiudice confessed in his plea agreement that the business was operated from 2016 to 2019. It was located in Chicago, Lemont Frankfort and Orland Park. He hired agents to help him place bets for college sporting events such as basketball, football, baseball and hockey.
He also admitted that he retained a Costa Rican company for accounting and record-keeping as well as for managing his gambling website. According to the plea agreement, he sent 12 cashier's checks to this company in Costa Rica totaling $113.625 between March 2018 and March 2019.
Prosecutors claimed that DelGiudice had hoped to keep his operation going even after his February 2020 arrest. But, the idea was thwarted when Urlacher was arrested.
DelGiudice's defense lawyer denied the allegation. He argued that a court memo entered as evidence clearly showed that "the vast majority" of the gambling activity had stopped after the raid at DelGiudice's house.