CURIOUS GAMBLING LAWS AROUND THE WORLD
There are over 200 countries and territories in the world today, each of them having its own jurisdiction and laws. Thanks to differences in cultures, habits, beliefs, and traditions of each nation, it shouldn't come as a surprise that the laws and national policies differ across the nations as well. And while these may make perfect sense in the eyes of national lawmakers, they often raise a lot of eyebrows among the population outside of the nation's borders.
Because of its complexity, gambling is an especially interesting industry to look at when it comes to curious laws. From no regulation to a total prohibition of any kind of gambling activity, the spectrum of current gambling laws around the world is as broad as it can be. Some of them are straight up bizarre, while others look rather sneaky - as if the policymakers knew exactly what they were doing, although the law may not make much sense at first glance.
You might have a laugh at some of them, but bear in mind that a lot of these laws are enforced to this day. So, in case you fancy an occasional gamble or two while on the road, you might want to pay close attention. Here are some of the world's most curious and bizarre gambling laws from around the world.
Japan – A country that found a loophole to its own law
Japan has a reputation of being an entertainment empire, so it might come as a shocker that gambling in Japan is, in general, illegal. While this doesn't apply to motorsports, horseracing, and lottery, it does apply to all other forms of gambling – including the popular slot machines. This is where things get interesting. While slot machines are forbidden in Japan, Pachinko, the Japanese game which combines the elements of pinball and, you guessed it, slot machines, is perfectly legal and wildly popular in Japan.
The curiosity of this system comes from the fact that the operators don't cash-out the winners directly, but rather use an intermediary. This way, the legality of conduct is secured, and no breach of law is performed.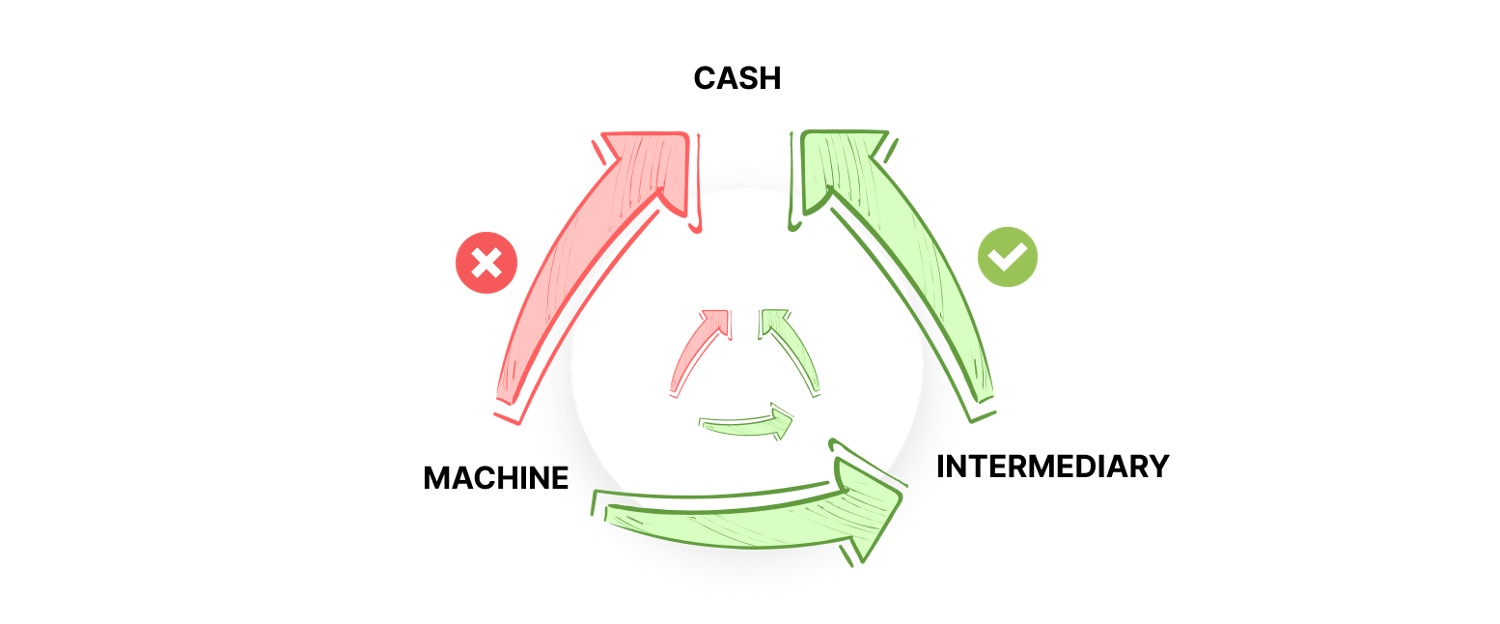 Japan has found a way around its own law, creating an industry that's said to produce yearly revenues bigger than Las Vegas. And while the game itself does require a bit of time and effort to get used to, once you do, you'll technically be legally gambling in a country where gambling is illegal...
North & South Korea – As strict as it gets?
Not much is known about the daily life of North Korean citizens. What we know, however, is that all gambling in North Korea is strictly forbidden and North Koreans are not allowed to participate in any gambling activities, online or land-based.
It is then quite surprising to find out that two casinos are actually open and available for gambling purposes. These are dedicated to foreign visitors only and can be accessed through guided tours. North Korea is also said to operate illegal casinos in South Korea to fund its government operations and undermine South Korea's authority.
South Korea's gambling situation is, perhaps surprisingly, quite similar, although a bit trickier. While land-based gambling is, in theory, legal, playing in most of casinos as a South Korean citizen would most definitely result in heavy fines and possible 3-year imprisonment. The legality of this gambling policy stems from the fact that there is one casino where South Koreans are allowed to play in – remote and far away from the rush of civilization.
There is a general notion in the country that South Koreans are two to three times more susceptible to problem gambling, which is most probably the reason for this strict rule. To make matters even worse, gambling oversees does not solve the issue of possible prosecution. Should South Korean officials suspect a potential pattern or reason for one's frequent trips to Las Vegas, the person might be charged and possibly prosecuted as a result.
Grenada – It's all about the numbers
Several Caribbean countries, most notably Panama and Curaçao, are famous for issuing online gambling licenses to operators worldwide. This is a result of the internet boom in the early 2000s, which many Caribbean countries took advantage of and are reaping its benefits to this day.
However, not all Caribbean islands followed this path, and Grenada is an interesting example of that. The small country consisting of 7 islands only legalized gambling in 2014, and prior to this period, the gambling industry was "regulated" by the 1966 Betting Act. Online gambling is still technically unregulated, since only e-gaming is defined in the recent Act from 2016, and online gambling does not explicitly fall into this category.
The Casino Gaming Act from 2014 featured a very peculiar policy: only hotel establishments with over 300 rooms could operate a casino. The peculiarity of this regulation stems from the fact that to this very day, Grenada's largest hotel, Royalton Grenada, only offers 269 rooms. This clever loophole allowed the government of Grenada to legalize casinos without ever issuing a single casino license.
One interesting fact is mentioned in a publication about internet gambling from 2000. Apparently, although Grenada did not take the path of issuing online gambling licenses like many of its neighboring Caribbean islands did, according to the publication, the country issued at least one license in mid 1990s. We can only speculate that the reason for this was connected with the much-needed cash injection to the Grenadian economy at the time, but regardless of this, it's always interesting to uncover hidden facts and play a detective.
The Philippines – Where culture matters
The gambling industry in the Philippines has been a steadily growing industry over the past decade. Besides from common casino games like baccarat or blackjack, less common areas such as cock fighting (Sabong) and horse racing are enjoying a great popularity among the locals. In fact, the country is now trying to cater to the online gambling market by providing an option of betting on e-cockfights, but many opponents of this idea are raising their concerns, along with the Philippines' President.
The Asian culture, however, is known to have many specific traditions and rituals outsiders might find difficult to wrap their head around. Gambling at funerals is one of them. In the Philippines, it is customary to gamble during the wakes, also known as lamay, which are essentially burial rituals for the deceased that last several days.
This rather long period before the burial ceremony is performed so that the family relatives have enough time to return home. Apart from the burial preparation, condolences, donations, food, drinks, and other festivities, gambling and playing card games is a typical activity whose aim is to help the grieving family to stay awake, since they must remain up for the full length of the wake.
In 2020, however, the Philippines' National Capital Region Police Office (NCRPO) put a strict ban on all types of gambling during wakes in an attempt to decrease illegal gambling, since the wakes were oftentimes exploited by illegal gambling operators. This decision, however, was met with an enormous backlash from the local community, as it was common for the grieving family to be given a portion of the winnings to cover the burial costs – money which now wasn't possible to obtain anymore.
As a result, just one month after the new regulation was introduced, a revoke promptly followed. Now, two tables are allowed – one for card games, the other one for a popular Chinese tile-based game called Mahjong – and anyone caught on additional tables is subject to arrest.
This is still a highly controversial regulation and a sensitive topic for many locals, who simply want to bury their relatives or show respect in a way they believe is necessary. On the other hand, the explicators of the 'wake loophole' have forced the police to take measures, and locals are not happy about it…
Tonga – So close, yet so far
Gambling laws in Tonga are very simple: there are none. Tonga seems to be one of the few countries without any gambling legislation whatsoever. Even after an extensive search for any acts and legal documents, it's extremely hard to come across any relevant sources. Despite this grey area in Tongan law, you would be unsuccessful in your quest of finding casinos in Tonga…
What makes Tonga's gambling laws (or their lack of) interesting is a story going all the way back to 2017, when the Tongan government in fact issued the one and only gambling license. The lucky gambling company was supposed to bring along an investment worth $450 million and was given exclusive rights as well as support of the Minister of Tonga, who promised to fix the legislation if certain conditions were met – including the fact that the vast majority of workers must come from the island.
What followed was a strong religious backlash from the local community – so intense the government was forced to abolish any attempts at bringing casino-related revenues into the island. This came even though Tongan residents would definitely be excluded from any casino activities, as is the case with the majority of islands offering casino services for tourists. The story shows that while gambling in Tonga is not governed by any specific acts, it's practically impossible to gamble – and find a new source of revenue – in the country.
The Island of Saint Martin – Do opposites really attract?
This small Caribbean Island is a perfect example of how different countries and jurisdictions influence territorial policies and laws. Belonging to two European countries – France (Saint Martin) and the Netherlands (Sint Maarten) – the popular tourist destination is a land of stark contrasts.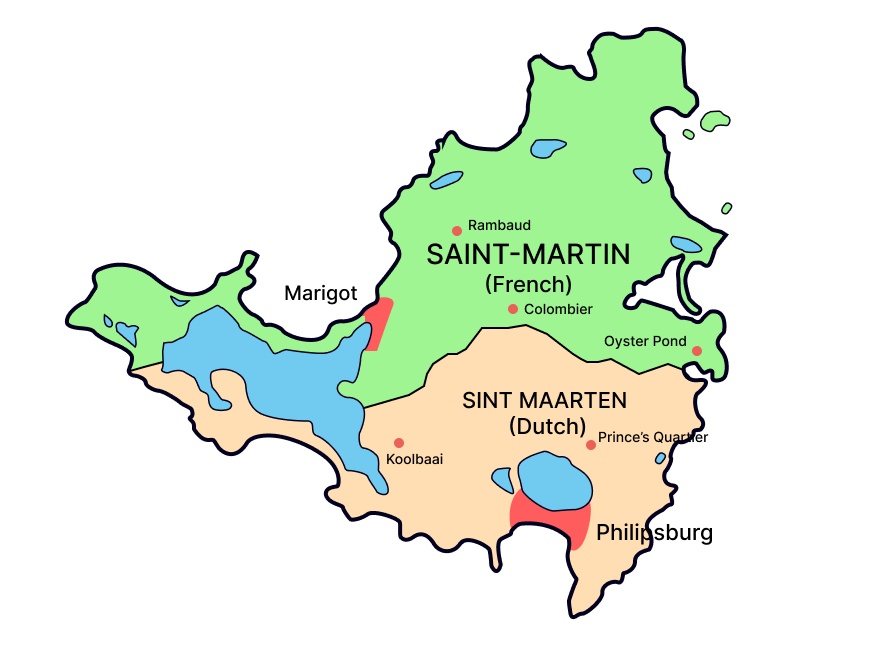 While the French side is governed by French laws, the Dutch side, although belonging to the Netherlands, does not fall under Dutch jurisdiction and therefore, Dutch gambling laws don't apply here. There is very little gambling regulation on the Dutch side, and even the one that exists isn't followed. The whole gambling industry de facto operates in a grey zone. This lack of regulation is not limited to gambling only, and, as a result, Sint Maarten has secured a reputation of being the "Sin Island" of the Caribbean.
Although there are currently 13 casinos on the Dutch side (a huge number for a small territory of roughly 41 km2), you wouldn't find any on the French one. This comes down to several reasons:
French taxes from gambling are among the highest globally.
The French part is known to be the "less developed" and "poorer" side of the island.
The majority of tourists visit the Dutch side containing all the flashy touristy establishments and beaches.
Combine all three reasons together, and it makes very little sense to build casinos on the French side.
USA – The cradle of curious laws
There probably isn't a country that currently enforces as many bizarre and odd laws as the United States of America. Each state has their specific regulations and laws, and many of them are decades old. This, however, doesn't stop them from being valid and enforced to this day.
Let's have a look at some of them:
Kentucky
Kentucky allows you to go to court and sue for any occurred loss, providing that three conditions are met:
the loss has exceeded the $5 mark,
you've indulged in an illegal wager,
and you file the lawsuit within 6 months from the incident.
The last condition, however, is very loose since you can even appoint someone else to sue for you later. You're also entitled to require back more money than you've lost.
A famous example of this rule is the decade-long court battle of Kentucky vs. PokerStars. In case you didn't already guess, online poker is technically illegal in Kentucky. The state focuses on punishing offshore online operators rather than players. In 2011, Kentucky representatives claimed that more than 34,000 citizens were allowed to play on PokerStars illegally during 2007-2011, resulting in a joint loss of approximately $290 million. The Commonwealth of Kentucky therefore decided to sue the online giant due to "suffered financial losses along with the tragic damage to its citizens."
In 2021, more than 10 years later, PokerStars has reportedly agreed to settle the payment, and is obliged to pay $300 million – 10 million more than the actual losses – to the Kentucky state. Under the law, the money collected by the state must be used on industries like education or healthcare. It probably won't come as a surprise that many online operators, including PokerStars, decided to avoid similar future issues by fully excluding players from Kentucky.
Hawaii
Hawaii is one of the few American states that prohibit gambling altogether. As a result, millions of Hawaiian dollars are being pumped into cities like Las Vegas, which is a popular destination for Hawaiian players and one that's 'just a plane ride away'.
The curiosity of Hawaiian gambling laws comes from the fact that Hawaii prohibits ownership of basically any slot machine – active, deactivated, antique, damaged, replica – none of that matters. In short, it doesn't matter whether your antique slot machine is just a decoration item for your new gaming room, you are not allowed to own it. The law even goes so far as to charge individuals with a felony should they be caught a second time.
To make matters even worse, the law isn't exactly explicit in its interpretation, making it extremely hard to distinguish whether a candy dispenser, for example, classifies as a slot machine or not. Hawaii isn't the only American state enforcing the ban on slot machines. At the time of writing this article, South Carolina, Tennessee, Connecticut, and Nebraska all prohibit private ownership of slot machines.
Texas
You don't need to be a gambling expert to know that poker and Texas share a lot of history. And while oftentimes certain inventions become the pride of the city, state, or country they are invented in, the situation with poker is not so straightforward. Let's break it down.
In general, Texas' officials have been trying hard to push the game to the background in the past few years. As a result of that, while online poker is perfectly legal in Texas, poker rooms are not.
Texas has been fighting hard against poker clubs. However, since the clubs discovered what they call a gray area in the law – supposedly allowing poker rooms to operate under certain conditions – the fight has become rather difficult.
The idea of the loophole is based on a belief that the legality of poker rooms cannot be attacked if the following conditions are met:
They need to run as private entities, so many choose to be private clubs.
They can't offer games where house edge is present, so only games offering an equal chance of winning (player vs. player) are offered.
They can't have any economic benefit from the provision of the poker rooms, so they don't take a rake. They can, however, charge for the membership, seats, etc.
While the poker rooms' representatives state that their aim is to decrease the underground poker business and increase safety of the players by establishing a safe and "legal" entity, Cara Mendelsohn, District 12 Dallas City Councilmember, argues that pretty clear that it's illegal. They would argue that there's some gray space in there. And so probably, this is headed to a lawsuit.
Speaking of lawsuits, there are several examples from the past where the Texas authorities raided and arrested numerous big poker clubs due to illegal operation of poker rooms. One famous example comes from May 2019, when police raided and arrested nine representatives of 2 big poker clubs based in Houston, only to release all of them 2 months later due to conflict of interest within the District Attorney's office.
Both clubs were approached by the same people offering help with legalizing poker on a state level in return for $250,000. Furthermore, one of the money recipients was working for the DA's office – and was handling the case in question! This goes to show how entangled the whole poker situation is in Texas – not legal, but not necessarily possible to stop. As long as the poker room operators are at peace with possible raids, arrests, and lawsuits that might not even prove their guilt in the eyes of the law, there is only so much the state can do.
Iceland – Different model, same problems
While Iceland might not be the best country for gamblers, it's worth pointing out that all gambling is governed by non-governmental organizations and all of its revenues go toward charities, public development, healthcare, etc. Lottery, sports betting, bingo, and slot machines are all legal forms of gambling in Iceland. Slots provide the highest revenue out of all legal gambling options and can be found in many liquor stores and establishments.
According to the Icelandic legislation, all slot machines (or electronic gaming machines, as they like to call them) are governed by Íslandsspil, a joint venture which was composed of three NGOs for almost 30 years: the Icelandic Red Cross, the Icelandic Association for Search and Rescue (ICE-SAR), and The National Centre of Addiction Medicine (SÁÁ). All gambling revenue was then distributed to the three NGOs depending on their proportion of shares: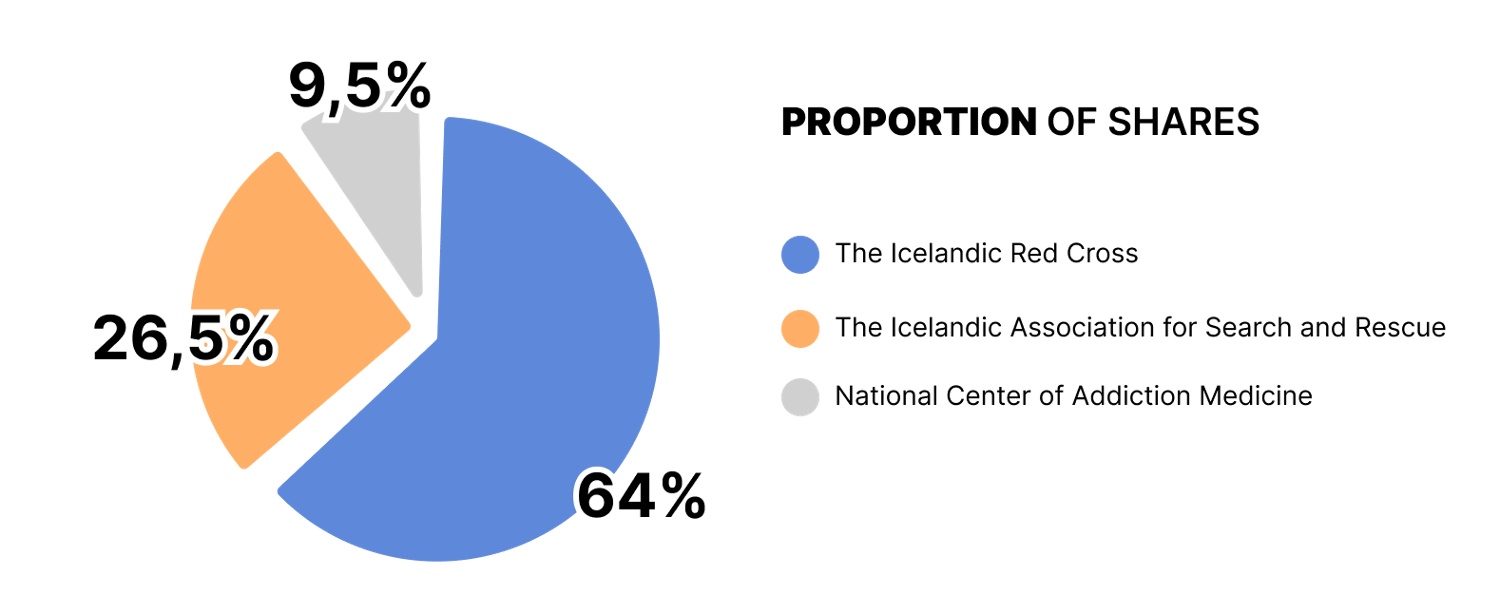 However, The National Centre of Addiction Medicine (SÁÁ) has terminated its involvement in Íslandsspil in 2021 due to the constant pressure and criticism from the public, which was being put on all three organizations for many years at the time. This was true especially for SÁÁ, which was highly criticized for both providing care for addiction as well as benefiting from it. Within the new framework, the Red Cross now owns 68.75% of Íslandsspil, while the ICE-SAR has a 31.25% share.
In the past few years, the social pressure on slot-providing companies and establishments has worsened in general, as many individuals started to come to the forefront and share their deep and honest stories of gambling addiction. On the other hand, the pandemic has brought numerous public letters of Icelanders celebrating the fact that their gambling behavior ceased to be problematic thanks to the lockdown.
Although permanently losing a big source of its revenue, the SÁÁ chose to follow the morality path – and it didn't go unnoticed. For example, the organization received a 10 million ISK donation from a man praising the organization's decision while honoring his 40-year sobriety.
A very similar situation is currently happening in New Zealand. The slot machines, or pokies, can be found in several different establishments and are governed by charitable organizations. However, the issue of rising gambling addiction cases is an ongoing problem too, with gamblers basically paying for their future possible rehab by losing. Countries like New Zealand and Iceland have interesting gambling laws whose intention is good, but more systematic solutions and player protection policies need to be introduced to tackle these challenges.