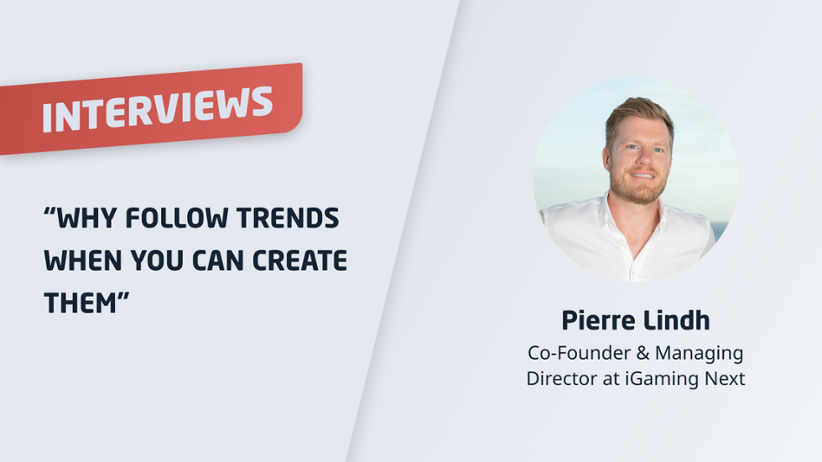 The upcoming iGaming NEXT Valletta is one of the most significant events on the industry calendar and is expected to be the largest gathering hosted by the company and focused on bringing the most prominent professionals, law and regulatory experts together to tackle the challenges of today and tomorrow. We sat down to speak with iGaming NEXT Co-Founder and Managing Director Pierre Lindh who walked us through what to expect at the upcoming event, how the company's overall strategy has changed and evolved over the years, and why setting trends is more important than following them.
Q: Pierre, iGaming NEXT has been around for seven years now more or less. What has changed in the format over the past years?
Covid was a big turning point for our company. Before 2020, iGaming NEXT & our previous company Ambassadör Events were very well known in Malta, but no one knew us outside of the Mediterranean rock.
The pandemic really forced us to rethink our entire organization and it knocked us out of the hamster wheel and that endless day-by-day of ticking off to-do lists, and instead forced us to look at the bigger picture.
We realized that we had a great opportunity to democratize thought leadership content which had previously only been available behind a $1000 conference ticket. We instead started recording panels and podcasts and uploaded everything for free, so that any ambitious professional in the industry, junior or senior could learn and develop. This was the major turning point for us that set us on the course that we are currently still on today.
Covid was also a reminder of how important it is to not lose sight of the forest for the trees. Many people switched directions in life during the pandemic, and I think that every so often it is important to look up and really question whether what you are doing is the right thing, or if you are just stuck in the hamster wheel.
Q: iGaming NEXT remains elusive to definition in a sense. You have been evolving as quickly as there have been major industry changes, it seems. How do you stay on top and decide what is relevant and would be of interest to your audience?
I would say that the red thread that defines iGaming NEXT is that we are future-focused and content-first in our approach. That's why the content is always evolving. We were very early to cover the web3 trend to explore synergies between our industries, and now we are somewhat focused on the current AI summer to explore synergies there. I think it is important to not lose that ambition to always think about what is next.
There is a saying in fashion that good fashion designers follow trends, but great fashion designers create them. In our case, it is a lot about predicting trends and always diving in with an open mind. It is not about always being right; it is about being curious. And if you are curious, things will fall into place.
Q: We are soon going to be heading to iGaming NEXT Valletta where Casino Guru News is a media partner. What can our readers expect to see at the event, and why it should matter to them?
First and foremost, we are super excited to have you guys with us, I am a fan of what you guys do. The readers can expect to get insight into all the latest trends, what is the industry thinking about right now? What are our pain points? Where is the future headed and what are the emerging technologies that will take us there. Pretty much all the heavy-hitting companies will be on-site to talk about their vision of the future as well.
Q: How have you been able to gauge the success of iGaming NEXT as an event over the years? Is Valletta '22 going to be better do you think and how?
In terms of attendance, we follow trend lines very carefully. So far, we are trending 50% more in delegate registrations to 2022. It will be the biggest event by far we've organized in the last 10 years, with more than 600 events in our portfolio. That makes it both exciting and nerve-wracking of course because we are somewhat entering the unknown.
But our team is world-class and we are in the gambling industry after all, so some excitement is always appreciated! Overall, the event is just bigger in every way. We are expanding the conference into a festival week with happenings all week, culminating into the closing party, which is our Showers pool party celebrating its 10-year anniversary, at Café del Mar with 2500 people. On top of that we have another 2 million things happening during the week, there is something for everyone, and we want to keep the event fun, engaging and valuable for everyone.
Q: When it comes to delivering insights to consumers and industry professionals, do you think iGaming NEXT occupies an important place even when you are not gearing up for events?
This is our ambition, to be at the center of things 365 days a year and report on the industry as we see it and promote a more sustainable future for the industry. We love the industry; I've been personally working in the industry since I was 17 when I stared my poker club back in Sweden. Gambling is all I've ever done, and the entire team takes a lot of pride in the content that we produce. That first and foremost is what drives us, and I think our audience resonates with that.
Q: Do you see the iGaming NEXT format evolve beyond Valletta and what big disruptors do you think your formats to adapt in future?
Europe and US are our two main markets. Our NYC show keeps growing as well and this year we sold the event out with more than 600 people on the waiting list who could not get a ticket. Next year we are expanding that event, which is taking place in the financial district of Manhattan just next to the World Trade Center. We are growing on all fronts and our ambition is to become the media powerhouse of the industry.
Q: Could you offer us one "big" prediction about the gambling industry in the next several years? Is gambling going to inherently change, is it going to be more readily available?
I love bold predictions! Except for Casino Guru News and iGaming NEXT continued success, my big prediction would be that I think we'll see an American operator like DraftKings acquiring one of the biggest European operators like Entain when they decide to take over the rest of the world.
Image credit: Casino Guru