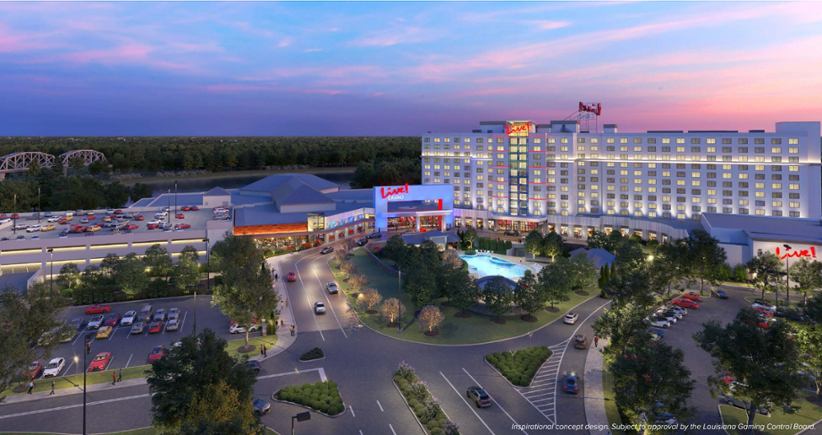 The leading gaming, entertainment, commercial, hotel and residential properties company, The Cordish Companies, confirmed plans for a new Live! casino resort and entertainment destination located in Louisiana. Earlier this week, the company unveiled its plans to redevelop the Diamond Jacks Casino & Hotel located in Bossier City.
The location, The Cordish Companies said, is expected to be transformed almost entirely and to offer new amenities. Ultimately, the redevelopment is expected to make the location a world-class casino resort and a premium entertainment destination.
The redevelopment project has a price tag of more than $250 million and involves the removal of the current casino riverboat. Replacing the existing casino boat, the company plans to build an all-new first-class land-based Live! casino. Besides the new casino, The Cordish Companies hinted plans to introduce new dining, entertainment and hotel accommodation amenities.
Such amenities are expected to include more than 400 hotel rooms, as well as a state-of-the-art 25,000-square foot multi-purpose event center. This center will enable the revamped resort to host conventions, non-profit gatherings, meetings as well as entertainment events.
Additional amenities are going to include multi-level and surface parking, as well as 30,000 square feet of premium dining and entertainment options that will include popular Sports & Social and PBR Cowboy Bar, among other food and beverage outlets.
The casino itself is expected to feature 47,000 square feet of gaming floor. The $250+ million investment plans to introduce more than 30 live-action table games. What's more, the casino floor would also offer more than 1000 slots, as well as electronic table games, a statement released by The Cordish Companies reveals.
Thomas Chandler, Bossier City's Mayor, said on the topic: "We are very excited to welcome The Cordish Companies team to Bossier City and look forward to working with them on this beautiful project." Finally, he added: "Live! Casino and Hotel Louisiana will attract millions of visitors to our city, create substantial new jobs, and generate additional significant tax revenue for our community. It's a life changer for our region."
Ronnie Johns, Louisiana Gaming Control Board's Chairman, added that the Control Board is looking forward to collaborating with The Cordish Companies for the new casino and entertainment location that is planned to be developed at Bossier City. He added: "The reputation of The Cordish Companies throughout the country to own and operate first-class casinos, restaurants, hotels, and entertainment destinations is exemplary."
Johns thanked the company for selecting Louisiana for this large-scale entertainment project that involves a significant investment. Last but not least he said: "The Board also wants to thank Foundation Gaming for their vision in beginning this much needed process of rebuilding a closed casino property."
Joe Weinberg, The Cordish Companies' Managing Partner, added that the company is delighted to collaborate with the gambling regulator in Louisiana and thanked them for the support of the new project. Weinberg added: "Live! Casino & Hotel Louisiana will be a world-class resort destination that brings a first-class gaming, dining, entertainment and hospitality experience to the region, creates significant new jobs, and generates millions of dollars in economic benefits for the community." The new world-class entertainment and casino location is expected to open its doors to visitors in 2025.
Image credit: The Cordish Companies