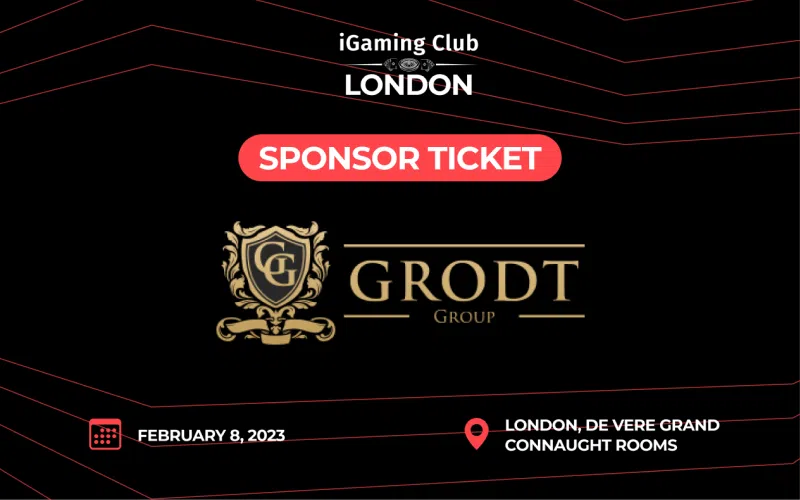 GRODT Group has become the latest partner to AffPapa's upcoming iGaming Club London, a prominent and much-anticipated gathering of industry experts who will come together over a meet-and-greet on February 8 in London, the United Kingdom.
The company, which owns 10 casinos, is happy to have acquired a sponsored ticket for the event and be able to join other industry experts who will exchange know-how, share impressions, and talk about the future of the gambling industry. In a written statement issued by GRODT Group, the company explained:
"GRODT Group members are excited to initiate their partnership with AffPapa, jumping on board as one of the sponsors for iGaming Club London. We are always on the lookout for new ways to build long-lasting relationships; our initial experience has been excellent and the team at AffPapa has been amazing. We look forward to what the future holds with this collaboration with AffPapa."
The event is tailored towards affiliates, operators, and B2B companies, such as providers, who will come together to discover various networking opportunities. AffPapa has focused on making the event easy and quick to get into, with a number of activities, such as "speed dating," designed to break the ice and introduce people to each other and, from there, expand on potential business pursuits.
Attendees can make contacts, discuss future collaborations, and even advertise their own products and services. The current edition of the event builds on the previous iGaming Club event which was held in Amsterdam and was deemed a success by AffPapa and its participants. Commenting on this new opportunity, Yeva Avagyan, Head of Commercials for the company, noted:
"AffPapa is excited to welcome GRODT Group as an iGaming Club London sponsor! I am convinced that the team will be a valuable contribution to the networking event, helping to create relations, and enhance the AffPapa community and the industry as a whole. Excited to see what this collaboration will deliver in the long-run."
AffPapa revealed registrations for the new edition of the event in December. Since then, the company has welcomed Campeón Affiliates as a gold sponsor of the event and Betsson Affiliates as a sponsor.
Image credit: Unsplash.com