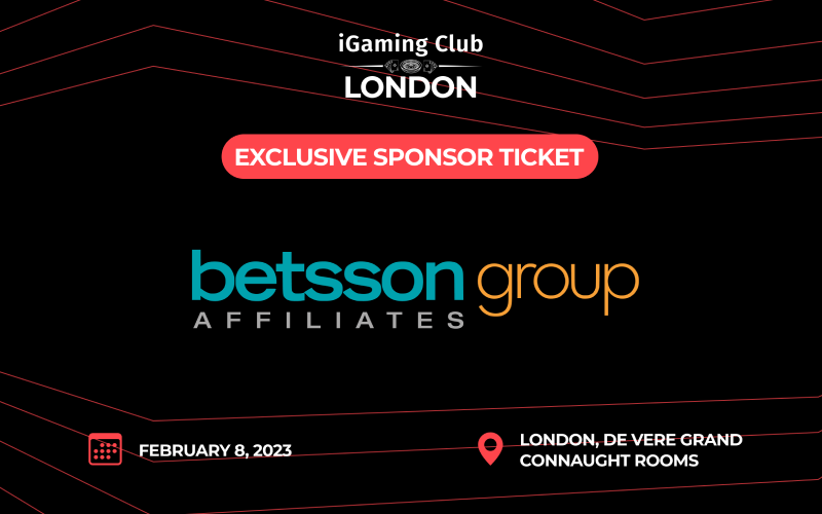 Betsson Group Affiliates has been named one of the official sponsors of the upcoming iGaming Club London hosted by AffPapa. The affiliate group reunites many prominent gaming brands under its roof, including NordicBet, Betsson, Betsafe, and many others.
Betsson Group Affiliates has a reputation for providing world-class services and bringing impeccable products to global markets, serving customers while maximizing business results.
As a long-time partner of AffPapa, Betsson Group Affiliates is also a fitting pick for the sponsorship of the iGaming Club London, AffPapa informed in a press release. Betsson Group Affiliates will have access to AffPapa's directory, and the two companies will continue to collaborate together for another year, the firm confirmed.
Commenting on this opportunity, Betsson Group Affiliates Senior Affiliate Operations Manager Shakyra Jonsson said that her company was happy to continue on its successful collaboration with AffPapa.
"Our experience as of today has been top and the team at AffPapa has been amazing, always supportive. We look forward to another great year ahead in collaboration with AffPapa," Jonsson concluded.
Betsson Group Affiliates Head of Affiliates Triston Smook was similarly pleased with the new collaboration and said that the previous edition of the event, iGaming Club Amsterdam, was what he called a "resounding success." Moving forward, Betsson Group Affiliates is looking forward to recreating the same unique opportunities.
Smook spoke about networking between top professionals and the unique opportunities the iGaming Club events provided. iGaming Club London is part of the broader event series hosted by AffPapa which is aimed at nurturing stronger ties between business specialists from various industries, as well as the creation of new business opportunities.
AffPapa Head of Commercials Yeva Avagyan was similarly pleased with the opportunity and noted that she was looking forward to the event itself, as well as working with Betsson Group Affiliates.
"Betsson Group Affiliates has been a long-time AffPapa partner, and we couldn't be happier to welcome the team to iGaming Club London as one of the event's official sponsors! Looking forward to seeing this partnership with the BGA team escalate to the next level," Avagyan said. Previously, AffPapa revealed Campeón Affiliates as a Gold Sponsor for the event.
Image credit: AffPapa