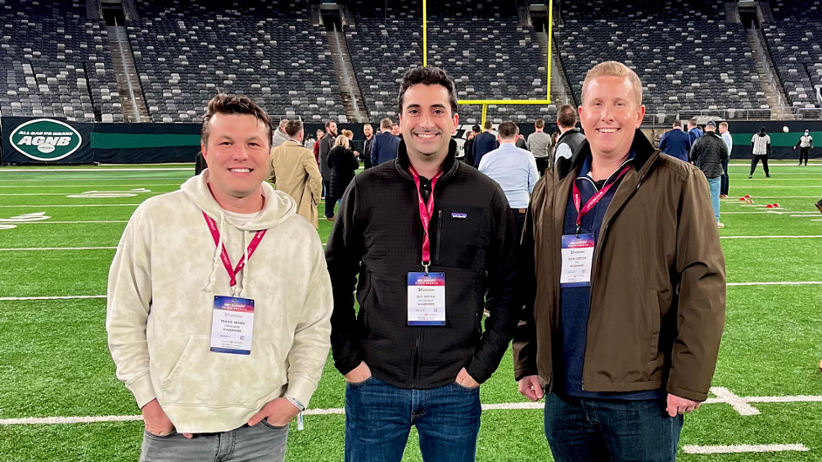 WagerWire has been set up to cater to a unique audience of sports bettors and yet – the company's Chief Executive, Zach Doctor, is confident that the company's secondary markets are something that every punter wishes to experience. In this interview, Doctor makes a strong and compelling argument about the importance of this solution, why the time to act is right now and what WagerWire brings to the table to fill this particular niche and exceed customer expectations, introducing many to a new and exciting concept in the sports betting world. WagerWire is happy to be a torchbearer.
Q: WagerWire recently formed a partnership with Sparket. Can you tell us a little more about the motivation behind this business decision and what it brings to consumers?
A: Our partnership with Sparket is truly groundbreaking and we are thrilled to combine forces to drive the online betting industry forward. On Sparket's platform, users can bet on anything in a pari-mutuel format, from traditional sports, to live events and even friendly competitions between friends. With our partnership and technology integration we are bringing a completely new betting experience to the world, as pari-mutuel markets will now become tradable after the event begins and the windows are closed. WagerWire's secondary market functionality gives users the ability to flip out of their bets between the window closing and the conclusion of the event, both on the WagerWire app as well as natively within the Sparket platform.
We are also joining forces in a social capacity. WagerWire has invited Sparket into our rapidly growing community of sports fans and bettors, and we will also utilize Sparket's free-to-play custom betting markets to create entertaining and engaging opportunities for our followers. For example, in February we are hosting the "Wire Awards" in honor and appreciation of our social team and content creators. Our entire community will be able to bet on Sparket for their favorite interviews, hosts, shows, articles, videos, and more! (for chips of course).
Q: How important has the availability of secondary betting markets become in betting markets these days and do you think that consumers are actually savvy enough to make full good use of this product?
A: Taking a step back, we really see this as a fundamental economic principle and a natural evolution of industries. Secondary markets give participants the optionality to sell their assets at fair market-based prices, whether that be for your concert tickets, stocks, sneakers, etc… and now WagerWire does the same for your sports bets. Many sportsbooks have started offering the feature Cashout, where they buy your bet back from you at pennies on the dollar. However, this really only makes the problem worse as bettors are forced to choose between letting it ride or taking a predatory offer. Can you imagine a world where you are only allowed to sell your car back to the dealership, and the dealer gets to set the price with no negotiation, or even decide not to make an offer at all? This is the reality right now for bettors.
As to your final point, we are seeing that WagerWire uniquely appeals to both novices and savvy bettors. The more veteran bettor is seeking that extra edge to buy bets at discounts to consensus odds and tapping into the full value of their bets instead of cashing out. At the same time, we have found that a secondary market experience is actually more intuitive to newer entrants compared to the traditional betting model which has steep learning curves. Novice bettors don't have a clue what -150 odds means, but it's completely natural for them to hunt for a bet with an A+ Deal Score and a 1.7x payout.
Q: Speaking of raising awareness, do you see WagerWire's role in popularizing the type of betting as pivotal in the industry?
A: WagerWire was founded with the mission of driving the sports betting industry forward and building the type of online betting experience that we personally wished existed. We deliver on this mission with an innovative marketplace for active sports bets that solves many of the problems and paint points bettors currently experience. We empower bettors to treat their bets as assets that can be bought and sold at any time at fair market-based prices. With WagerWire, bettors are no longer forced to decide between letting it ride, hedging, or taking a predatory cashout offer. Now they can jump in and out of futures all season, cash in on parlays before the bust, and trade game lines until the buzzer.
Having this type of betting accessible at scale will actually benefit the entire sports betting industry. In a study we performed last year, bettors responded that being empowered with a secondary market available, they would make significantly more bets of all types (Straight, Parlay, Futures, and Props). They would also make larger bets and riskier bets. Additionally, 92% of 'grey market' bettors said this feature would be compelling enough for them to enter the regulated betting markets. So, we firmly believe this is a pivotal evolution of the industry.
Q: What are the main challenges before popularizing the WagerWire products or do you see it as a natural extension of the betting experience that appeals to consumers on a visceral level?
A: We see WagerWire as a natural extension of the betting experience. We have built a first-of-its-kind, integrated real-time bet trading marketplace that truly redefines the category. We designed the product to be a hub for your betting activity. Have a particular bet in mind you want to make? Come to the secondary market first since we will have the sharpest odds around. Don't see the bet you want on the market? No problem, we'll link you directly to our partner sportsbooks to place a primary bet.
We will be out there every day educating the public who will be new to this concept. We will also be out there every day capitalizing on the proven earned media virality around the kinds of storylines that will play out on our app. Nearly every day on social media you hear about someone with crazy longshot futures bet from early in the season, or a 15-leg parlay that's just a couple wins away from hitting. These moments go viral as the bettor has to make a decision to take a predatory cashout offer, scramble to place a four- or five-figure hedge bet, or let it ride and live with the outcome. Before you know it, the story gets enough steam to make it onto ESPN and Action Network. WagerWire makes all of these stories actionable, allowing the audience to buy into these bets and participate in the outcome.
Q: This year is definitely going to be an exciting one for sports betting in the United States. What do you think your accomplishments in the context of market expansion would be and what is WagerWire aiming at next?
A: We have some really exciting things on the horizon. There are more big partnerships to be announced, and we are rolling out the WagerWire mobile app for a soft launch this spring. Users will be able to sync their sportsbook accounts for real-time value tracking of your bets, custom content, and social features. We are starting with a free-to-play bet trading marketplace with learning modules and prizes that anyone in the US will be able to enjoy, even if you are not in a legal gaming state. This will allow us to harness the momentum of our community growth and educate our users about this new innovation so they are primed for real money trading as sportsbook integrations turn on.
As the industry more broadly looks ahead, sportsbooks are faced with stiff competition, high customer acquisition costs, and a lack of player loyalty. We want them to know that WagerWire is here to help! Our integrated marketplace, as well as our B2B plug-in natively within sportsbook apps, delivers our sportsbook partners a new channel of product differentiation, clever hooks for user acquisition and earned media, and stickier engagement.
Image credit: Casino Guru News/WagerWire