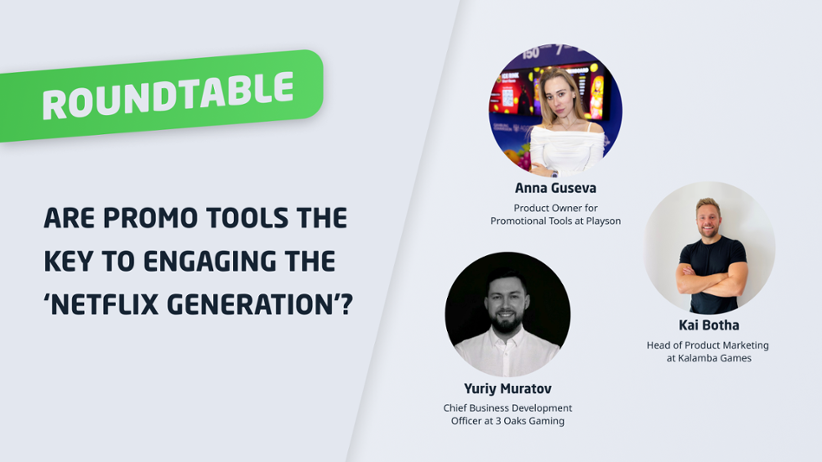 The nature of the gameplay is changing, with players looking for even quicker, more engaging ways to win. In a society where the average attention span is less than 10 seconds, in what ways are games development studios adapting to increase the engagement and retention for a new generation of players? We caught up with some of the industry's slot studios to find out how they are evolving their promotional tools offering in line with existing market trends. We spoke with Anna Guseva, Product Owner for Promotional Tools at Playson, Kai Botha, Head of Product Marketing at Kalamba Games, and Yuriy Muratov, Chief Business Development Officer at 3 Oaks Gaming to find out more.
Q: What makes a successful promotional tool in today's marketplace that attracts players?
Ganna Guseva (GG): Effective promotional tools are those which have been designed with the psychology of a player in mind, as well as considering the latest behavioural trends in how people consume digital entertainment.
Ultimately, they should be intuitive and easy to understand, elevating the main gameplay with alternative concepts. On top of that, they must be aesthetically pleasing to players. Inferior promotional tools have the potential to disrupt the experience of an existing successful game if not developed properly. At Playson, we take the development of these tools just as seriously as when creating a new game, as the quality of the product must be consistent across the board.
Kai Botha (KB): Gamification tools are first and foremost about entertainment and enhancing the content on offer. Our promotional tools ensure that even if a player doesn't win a prize, they leave with a sense of gratification from the entertainment itself, which amplifies the gameplay experience. A strong portfolio of gamification tools balances rewards and entertainment which can be incredibly successful if providers can get this equation right, leading to player uplift. Furthermore, tools that offer an element of competition, as well as a degree of chance, tend to appeal more to players.
Yuriy Muratov (YM): Ideally, you want a product that stands out from the crowd and elevates the core slots experience. We have enjoyed success in the past year with our Jackpots and Lucky Drops promotional tools. In these instances, we wanted to design a promotional tool that offered operators the chance to be flexible when offering these promotions and clarity in this has been vital.
Player entertainment and retention is the ultimate goal when it comes to promotional tools and I think any tool that has the capacity to be thrilling and quick will always do well in the current climate. From what we have seen, players seem to engage with anything that offers speed and variety.
Q: In the digital era where the average attention span is just 8 seconds, in what ways do you adapt your tools to improve engagement and boost the overall player experience?
GG: When I came to Playson, we had a portfolio of long-term features - tournaments, network tournaments, jackpots. I knew I had the magic gloves of a newbie so I was given licence to look at things through a fresh lens and inject new life into our promotional offering.
We are constantly consumed by digital media, whether it's scrolling through social media, reading the latest news stories, or sitting in video conference meetings, and it's easy to get overwhelmed., It's much more difficult for us to focus on one thing nowadays, and if we do, it's because we find it interesting. If it is enjoyable, we will come back to it again. It inspired me to start thinking about a short-term feature portfolio that would resonate with a wide audience of casino players.
Our latest feature, Short Races, is all about that and incorporates the Netflix-style of thinking. With Short Races, we created a three-day tournament recently and of those who participated on the first day, 73% came back the next day.
Also, the players don't want to enter a long-term tournament that started a week ago, where the scores are already huge and are always going to be behind. As the sessions at Short Races are short, the players can join and still have a chance of winning after just 15 minutes. This is appealing to many players and makes them come back to the game, increasing retention rates.
So, as a company we're focused on developing a balanced features portfolio based on different players' needs and have long-term features, such as network tournaments, as well as short-term promotional tools like Short Races and Cash Blast. Cash Blast was released in 2022, it randomly distributes prizes during a set promotional period and is still very popular among players and casino operators.
KB: Our design philosophy has always been to make engaging content as intuitive and non-invasive as possible and this led to us building engagement mechanics into the games and having them operate in the background. Players can therefore open and close our in-game promotions panel at their own discretion to see the promo status, how many people have won a random cash drop or how many prizes are still left. From the player's perspective, there is very little effort involved to be in with a chance of winning a prize which means they are not distracted from the gameplay, ultimately improving engagement.
YM: Improving engagement is absolutely vital in this digital era. When it comes to our existing tools, Jackpots and Lucky Drops, we have the option to be flexible and offer specific time periods within these promotional tools. That means we can offer short, quick-fire promotional intervals which is what players really look for now.
For the next generation of players, time is definitely of the essence as they are more likely to engage with a promotion knowing that a prize will drop within a shorter timeframe. My guess is that the average attention span may shorten even further over time so it is imperative that we keep doing our research into what players want from promotional tools.
Q: Do you have any new promotional tools in development?
GG: Developing features is a long and complicated road. In general, I believe we have a good features portfolio for different partners' needs. Reel of Fortune 2.0 is now in development.
Apart of working on the features, we went through the major upgrade of our infrastructure. The new xPlatform allows all our features to perform now through a powerful engine. We have also developed a user-friendly back office, xEYE Viewboard, where our casino partners can get all necessary analytics about promotions, and started to offer customisation of promotional tools to our partners.
But we don't stop, and now we are working on a new design of all the features – we call it Feature Bar. We now have active features and promotions and all of these can exist together. Some partners want to make local promos for the weekend and it means all three promotions should be seen in one game at the same time and not bother people playing the main game. For those who don't like features or playing promotions, we have the option to hide the features. This is also in development.
KB: We are in the process of transforming our Cash Drops tool which has proven our most successful promotional tool to date. This self-funded, random cash prize mechanic, generates upwards of 300%+ uplift in bets and players per campaign.
However, Cash Drops campaigns have been up until this point, exclusively bespoke and tailor-made to a specific client's needs. Our next big adventure is to apply the success of Cash Drops on a network level. Network campaigns mean larger prize pools, more players and ultimately more winners. Keep an eye out for the next Kalamba Cash Drops network campaign!
YM: So far, 2023 has been a very busy year for us in terms of developments across a wide array of offerings. We have expanded our team across Europe and introduced new games with a variety of new mechanics, or Hold and Win slots with subtle and modern twists.
In terms of promotional tools, we are always looking at ways to create unique versions and a few are currently being developed. What we need now is to make sure the next promotional tool that we deliver propels us to another level. The success of Lucky Drops, in particular, boosted our standing from an emerging iGaming distributor to one that is now firmly established in the sector and we want to continue down that path to become a distributor with a glowing worldwide reputation.
We want to refine our current offering, with a view of optimising our current toolset, and ensuring that our jackpots and prize drops remain unique. There's always an opportunity for us at 3 Oaks Gaming to look to add even more features, like leaderboards, badges, points-based promotions or challenges. The next step for us is making sure these enhance the success of what we have already released so research will need to be done.
Q: How do you think ongoing regulatory changes will influence the next generation of promo tools?
GG: Some of our partners have come to us with new regulations and we do everything we can to meet the requirements to participate in all markets. A partner came to us recently and said they needed opt-in or opt-out functionality before launching our tools. We implemented all these elements for the partner in order to adhere to certain regulatory requirements. We have a separate certification department, which is responsible for all the regulations for the games.
KB: Being adaptive in an industry that is ever-changing is critical to the success of any company. This adaptability applies to all facets of our business whether that be content, compliance or product. Ultimately, we are in the business of entertaining. The next generation of promo tools will have to balance the need for providing entertainment with the need for ensuring fairness and protection of players. Our modus operandi is always to provide the best user experience for our audience, and this doesn't happen without the trust of the players. The engagement tools of the future need to optimise and protect the player experience and therefore, prioritise trust, while entertaining players.
YM: I think these changes will only sharpen the focus on how promotional tools add a positive dimension to the gameplay and keep players entertained. Ultimately, they provide a cost-effective solution to bonusing and how casinos grab the attention of players. With promotional tools, we want to push the boundaries and ensure they become even more interactive with users.
Image credit: Casino Guru