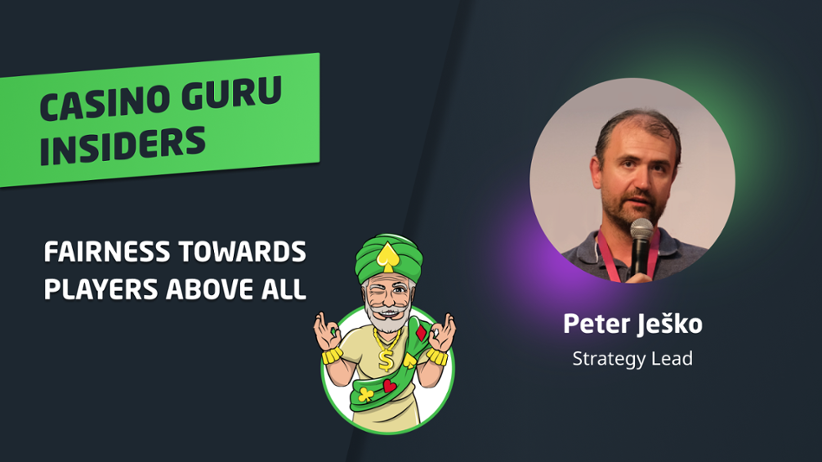 Meet Casino Guru's Strategy Lead, Peter Ješko, who significantly influences the direction of company development. Peter's rich experience and knowledge of the online gambling industry allow him to set the right course and provide strategic counselling to individual departments.
In this interview, Peter discusses his role in the company and the processes he oversees. He also describes his involvement in various departments, including the Complaint Resolution Center and the Data Team, and explains the lively flow of meetings at Casino Guru.
In what way does Peter's role as the Strategy Lead manifest itself? Where did he acquire such a comprehensive understanding of the various procedures involved in Casino Guru from? How exactly does Casino Guru's reputation rating work? Let's find out!
Q: Peter, what exactly does the position of Strategy Lead for Casino Guru entail?
Strategy Lead is a term that had to be invented for my position [laughter]. My role involves several areas of expertise that are not all directly related to the company's overall strategy, but, essentially, my job is to provide guidance and direction for the company's future. In weekly meetings with the product manager, we discuss the current state of the company, assess our position in the market, and work together to find solutions to any problems that arise. Drawing on my broad knowledge and understanding of the company's processes, I am able to contribute to the decision-making process and help identify the most effective steps for the successful operation of Casino Guru.
Q: Where did you get such a broad knowledge of all these processes?
In the early days of the company, the directors oversaw everything, which eventually became too complex for one person to handle. As a result, they transferred some of their competencies and expertise to others, and some of that responsibility fell on my shoulders. Being with the company almost from its inception gave me significant insights and know-how regarding the company's principles. For instance, I founded the affiliate team, led it for some time, and established most of the processes that still operate within the department today. What was once a one-person job is now handled by a ten-member team, led by my colleague named Ivona. I have also been heavily involved in resolving player-related issues, which has given me a detailed overview of this area as well.
Q: What does your regular work agenda look like?
I collaborate with different departments such as the Complaint Resolution Center and the Data Team. We hold reputation calls to handle complex complaints with Matej Novota, Head of Data & Complaints, and other experts. Daniel Dolejsi, our Social Media & Community Lead, and I also play a significant role in the calls. On top of that, we have hashtag meetings to assess problematic terms and conditions in casinos, six of us meet to determine if the terms are fair and define them accordingly.
As a Strategy Lead, I provide my perspective, and this is a significant part of my job as our stance on fairness reflects the company's overall approach to the online gaming industry. Casino Guru places a big emphasis on fairness towards players, which sets us apart from the rest of the industry. We often challenge established practices and require casinos to go beyond the ordinary to improve the player experience and protection.
Q: How do you get a casino to "go beyond the ordinary"?
When a legitimate complaint arises, our team reaches out to the relevant casino to explain the issue and convey our position. We aim to find a mutually agreeable solution that satisfies the player who has been wronged. This process is critical to ensuring that Casino Guru upholds its commitment to fairness and transparency in the online gaming industry. I specifically help with communication and negotiations with very important partners and assist in solving more complicated complaints.
Q: Can you provide an example of such a case?
I once handled a case where a player was accused of fraud by a casino which believed that the player's win was impossible without cheating. However, during our reputation call, we determined that although the win was unlikely, it was still possible and could happen statistically. My colleague and I had several discussions with the casino, and our negotiations resulted in the player being paid a significant sum of money. It was a satisfying moment for us as we knew that our efforts helped the player receive what they deserved.
Q: What's the usual flow of these meetings, including the reputation call that was mentioned?
We have passionate discussions during our meetings, and disagreements are not uncommon among us. Therefore, we always strive to reach a consensus before taking any action. Our decisions are not made hastily; rather, we thoroughly examine the situation before consulting with casinos or our partners.
We often debate how much weight we should give to fairness in certain cases. While fairness may seem like an obvious concept, it is not always easy to apply, and we often come across unique circumstances and gray areas. Initially, I had a more rigid approach, but experience has taught me that being too forceful does not always yield the best results. Finding a balance and reaching a compromise is key.
When dealing with complaints, we understand that casinos have their own perspective, and they tend to stick to their established policies based on the legal interpretation of their terms and conditions. We discuss how we can effectively communicate our philosophy and find a middle ground to the benefit of all parties. This is a complex and time-consuming process, but it is crucial to achieving our goals.
Q: How would you broadly define the values and philosophy that Casino Guru represents?
Our company's core values and principles are outlined in our Fair Gambling Codex. However, this codex cannot cover every new issue that arises each week, so we often need to adapt our approach based on new challenges. Our overarching philosophy centers around providing the best possible service to visitors who actively seek information about online casinos.
We don't engage in direct marketing or encourage people to gamble, instead, we focus on offering recommendations and satisfying our visitors' needs when they seek out online gambling-related information. This means that we prioritize user experience and consistently demand that casinos treat players fairly and pay out all legitimate winnings. This standard forms the foundation of our reputation rating system.
Q: How exactly does Casino Guru's reputation rating work?
The reputation rating of online casinos is the result of a complex and sophisticated methodology that takes into account various factors. To create the final rating of a casino, we collect various information about the business, including its terms and conditions, player complaints, and other relevant data. We evaluate casinos based on their willingness to pay out players and avoid deceptive practices, such as hidden fees or misleading terms.
If we identify practices that we consider to be unfair, we assign black points, which are factored into the formula for calculating the reputation rating. The formula compares the number of black points per one million in revenue, and the results can be further adjusted based on other factors. Overall, our reputation rating system provides a reliable and objective measure of how safe it is for a player to play in a particular casino.
Q: Why is a casino's revenue an important component to consider when creating a reputation rating?
Ensuring the safety of players is one of our top priorities when evaluating casinos. In this regard, we believe that casinos with high revenues are generally more reliable and safer for players as they have the financial capacity to pay out even the largest wins without any issues. To estimate a casino's revenue, we use a proprietary formula that considers factors such as the number of visitors and their locations. Even if this information is not publicly available, we are able to obtain a good estimate of a casino's revenue. Our Data Team is responsible for this task, as well as other related responsibilities.
Q: You mentioned that you also work with Casino Guru's data. How exactly?
I assist Data Analytics, which is led by our college Maria, on business intelligence, and apart from that I also deal with mathematical issues related to statistics. Data processing also involves algorithms that I have designed for the company. Our reputation rating, for example, is based on a certain algorithm that I created when I joined the company. Before that, we used to work with an Excel spreadsheet where revenues were in rows and black points in columns, until I got tired of working with an unwieldy table with 400 cells. So, I created a formula that had many other benefits and is still in use today.
Q: What were you doing before you joined Casino Guru, and how did you end up here?
Growing up, I had a talent for math and a love for games. After finishing college, I turned my love for games into a profession by becoming a professional poker player. It allowed me to make good money and have control over my own schedule. However, after 10 years of playing, I began to feel burnt out and started to dread sitting down at the poker table, even the online one.
I knew it was time for a change, but finding a new career path was difficult since I didn't want to work in a traditional corporate setting and my resume read "professional poker player" for the past decade. Eventually, I came across an advertisement seeking someone with a strong understanding of statistics and excellent communication skills to work with partners in the field of affiliate marketing for online casinos – a perfect fit.
Q: What do you enjoy most about working for Casino Guru?
Well, I must say that I appreciate the friendly atmosphere that has been present since the early days of the company and continues to this day. We don't have corporate manners, communication between colleagues and owners is casual, and no one's success has gone to their head. We respect different opinions, have flexibility within our work schedule, and that's crucial for me. Overall, I'm very happy that I can utilize all my knowledge and skills at Casino Guru, and I feel like I'm in the right place.
This interview is part of Casino Guru Insiders, a series of interviews during which experts from Casino Guru share their unique workflow, reveal insider information, and offer an exclusive overview of experience-packed know-how.
Image credit: Casino Guru