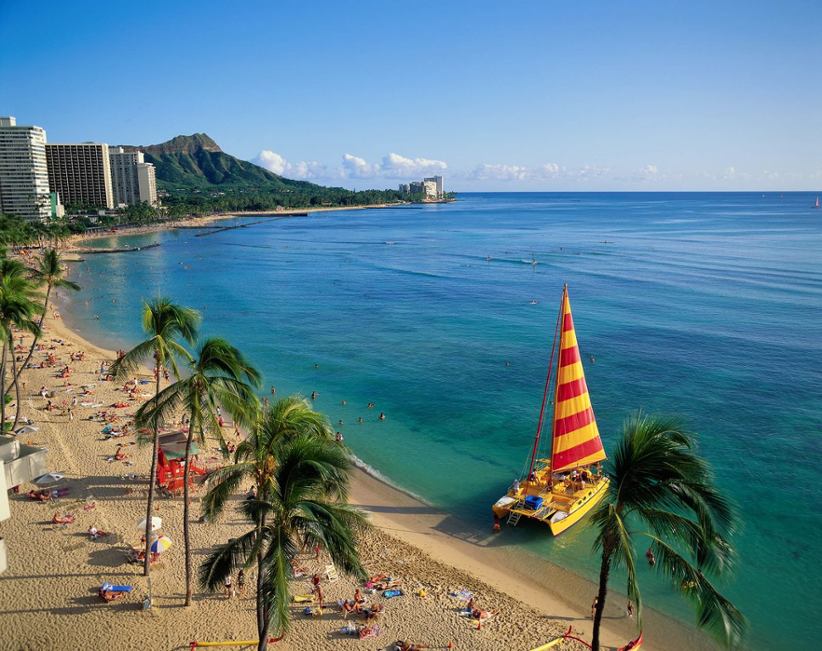 Five bills
, which would have a lottery, a casino and sports betting implemented in
Hawaii
, were passed in their first reading in the
state House
. Each bill was referred to or re-referred to four committees,the Economic Development, Customer Protection and Commerce, Judiciary and Hawaiian Affairs and Finance.
House Bill 1820, introduced on January 24, was the first bill. It would grant a 10-year license to one member-only casino on Waikiki.
The bill provides details about the $20 per-day admission for guests who register to spend a minimum of one night and one day at the hotel. The bill also establishes the state gaming fund, compulsive gambling program, and the creation of a problem gambling fund.
House Bill 1973 would regulate state sports betting, giving responsibility to the Department For Business, Economic Development, And Tourism.
It also lists the licensing requirements for suppliers and operators of sports wagering. Additionally, it states that sports betting would not be considered a game of chance. It was introduced along with the other three bills on January 26. A 10% tax on the adjusted gross sports wagering receipts of licensees would be levied.
House Bill 2040 aims at establishing the Hawaiian Lottery and Gaming Corporation. This corporation would regulate and conduct wagering and gaming. It would also authorize Lottery and Gaming Special Fund to allocate funds for community uses.
House Bill 2485, in a similar vein, would create a state lottery commission. This commission would make sure that any lottery surplus funds are used to address problems caused by invasive species.
House Bill 1962 also requires the Department of Hawaiian Home Lands to prepare a report about the potential state revenue from casino gaming. The report is due by 2023.
All forms of gambling are currently illegal in Hawaii, as well as in Utah. As the pandemic continues, more states are coming to terms with the fact that legalizing gambling and sports betting is merely regulating an existing black market. The bills show that Hawaii must undergo a change in its financial thinking.
According to the legislature, Waikiki was the center for nightly entertainment in Hawaii 30 years ago. There were movie theaters, numerous live performances every night, nightclubs and other activities. In the last few years, Waikiki has lost many of its nightlife activities, including nightclubs and musical performance venues.
Gambling, like alcohol and cigarettes, is another vice that cannot be effectively banned or eliminated. Therefore, Hawaii and other states may as well tax existing actions and use the money to benefit those who can use it.
These bills follow six that were introduced one year ago by the state's Senate and House of Representatives. They sought to allow gambling in Hawaii, but all were eventually dropped by committees.