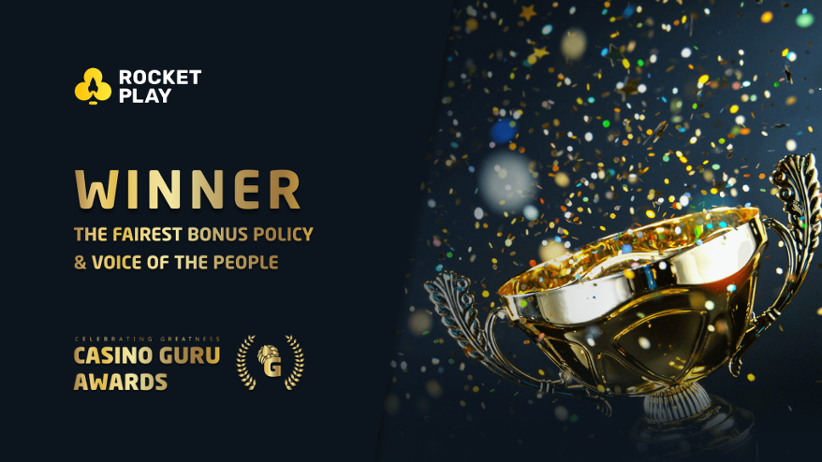 RocketPlay emerged from the Casino Guru Awards as the winner of not one, but two distinctions. The company managed to grab the accolades for both the "Fairest Bonus Policy" and "Voice of the People," becoming the first company to have done so in the event's history. We caught up with RocketPlay to pick the team's brains on what was next for RocketPlay, how they felt about the Casino Guru Awards, and whether we would see them again next year. Below is our conversation with RocketPlay's Team Lead of Customer Care Services, Lilly Gerner.
Q: RocketPlay has just won the inaugural edition of Casino Guru Awards in the "Fairest Bonus Policy" category. How does this feel?
It is a great honor for us to be awarded as a company with the Fairest Bonus Policy. Honesty is a crucial value for the RocketPlay team, and it is very important to us that the bonus policy is transparent and clear to the players. So now it feels like an outstanding achievement, like we are doing the right things and moving in the right direction.
Q: At what point did RocketPlay realize that fair bonus policies are important for your success as a brand?
Frankly speaking, we've always known that. Obvi, to get trust, you need to have a straightforward and transparent bonus policy. It's always important for players when they use a gift to know what they're taking. Wagering, max win, max bet, and all other conditions should be displayed on one screen and clearly described. We researched a lot, sinked in analytics, and interviewed many players to form an understandable and profitable bonus offer for players. A player needs to get only positive emotions and pleasure from the game when he comes to the project. A transparent bonus policy is an essential element for a good game, so is a priority for us and the RocketPlay brand.
Q: Can you tell us about the difficulties of setting such terms that will meet regulatory standards and be accessible to players? What are the main challenges in maintaining a tight bonus policy?
Players are always looking for the most mind-blowing experience. But sometimes, in a rush, they forgot to follow the rules and can inadvertently break them. To prevent these issues, we try to spell out all the conditions of the bonuses in simple language so that players do not accidentally violate the rules.
Also, we have an internal rule in our communication policies: if there are several repeated appeals (from 5) from players about the accidental violation of the rules of the bonus policy, we consider the problem. We interview these players and try to figure out why the rule was broken. If the reason is that the rules were not determined clearly enough for the player, we change the wording and try to spell it out more straightforwardly.
For example: from the description, the player didn't understand how much time is allowed to wager the gift. This needed to be more straightforward for him. We considered this case, prolonged the time, and then corrected the wording of the gift so it became more understandable.
Q: Do you see the industry actually taking active steps towards improving bonus policies across the board or do you think many operators still have a long way to go?
Yes, we've noticed a broad tendency to improve bonus policies. In gambling, it is very important, to be honest with the players. Honesty and clarity in bonuses are the criteria by which players choose the project. And in the moment of fair competition, operators are trying to make policy more straightforward. And it's cool because the market is rapidly improving, and we are with it.
Q: RocketPlay is also this year's Casino Guru Awards' "Voice of the People" winner. What do you think has helped you win the people's voice? Is it just the scale of your operations or similarly – a way to communicate and connect with players?
In our case, obviously, it's a way of communicating with players. The RocketPlay team values quality communication, and we do a lot of work for this. As already mentioned — trust is very important to us, and we build communication with the player according to this principle. Customer Care is available 24x7. Players can contact us via Live Chat and get all the help they need. Also, we conduct many satisfaction surveys, and we can admit that the CSAT is quite high. On top of that, we are actively collecting feedback and improving ourselves to make the gaming experience better. This award is an honor for our team because it shows colossal trust from the players, and it means we have chosen the right vector for development.
Q: The Casino Guru Awards were judged by some of the most prominent industry leaders who sat alongside the Casino Guru judges? Do you find the selection of judges and the overall process to have been fair, and what would you recommend improving?
Yes, we would like to mention the high level of organization of the Casino Guru Awards. The judges were highly professional, true industry stars, and we were honored to be judged by them. The judging process was open, honest, and fair, and the questions were clear. We thoroughly enjoyed our time with them and had an invaluable experience participating. Everything was great. Thank you for a great time
Q: Does RocketPlay plan on submitting a nomination for next year's awards?
Of course. We're a pretty ambitious project and plan to apply again next year for new nominations. So, see you next year.