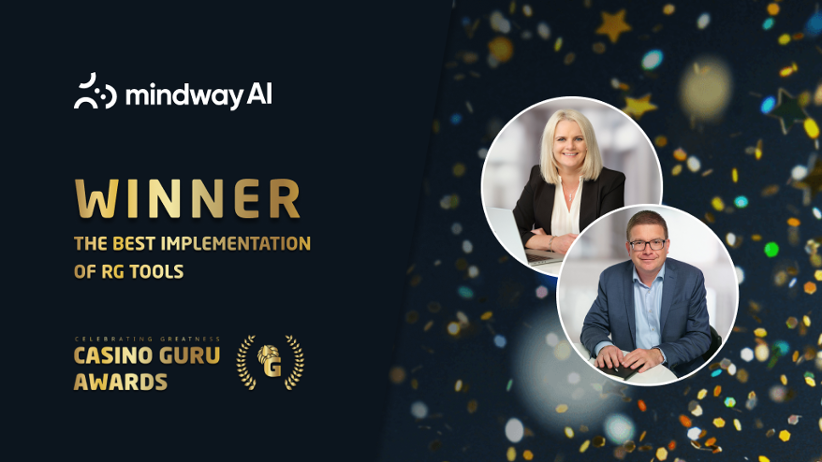 Mindway AI was up against some very serious competition at last month's Casino Guru Awards 2023. Applying in the "Best Implementation of RG Tools" category, the company emerged victorious owing to the clear commitment to player protection Mindway AI has helped drive through neuroscience, psychological expertise in safer gambling, and machine learning.
We have had the chance to catch up with Mindway AI BDM Paula Murphy and company CEO Rasmus Kjaergaard who shared their thoughts on the Casino Guru Awards, what this achievement meant for them, and how the company is addressing what it sees are the main challenges to the adoption of responsible gambling tools.
Q: Mindway AI has just won the Casino Guru Awards in the "Best Implementation of RG Tools" category. How important is this distinction to you?
We are over the moon to be recognized by the judging panel of the Casino Guru awards in this category. We were up against some serious competition. We know most of the other finalists and even work with some of them on shared projects.
It is, of course, always great to win awards, and the stringent judging process here – which involved presenting our application to the judges as well as a written submission – makes it all the more meaningful.
Player protection is a critical consideration for the industry, and enabling operators to excel in this area is the entirety of what we do at Mindway AI.
Q: Where do you think the success of your company in implementing RG tools lies and how is the industry responding to it?
Our solutions come from a unique combination of neuroscience, psychological expertise in safer gambling, and machine learning. The business has grown significantly from the early days as a spin-out from Aarhus University in Denmark, but we have never strayed from our foundations in science.
We have developed upon these foundations by building a team at Mindway AI who have a varied and relevant range of expertise spanning science, industry experience, regulatory compliance, technology, and business management.
We use these skill sets in partnership with the operators we work with. We understand that one size does not fit all. Our customers have unique requirements, which means that our solutions need to be tailored to suit the specific needs of those businesses.
In terms of industry response, it's been phenomenal. We are very busy indeed. We have solutions running in 40+ regulatory jurisdictions internationally, and that number just keeps on growing.
Q: Speaking of the industry, everything around us is changing so quickly. The dialogue about RG tools is, if not front and centre in the industry today, then at least broadly discussed. Do you think this is enough or is there more that needs and can be done based on Mindway's experience?
As an industry, we have come a long way. Even in the last few years, the landscape has changed significantly. A lot of work and innovation goes into player protection across the board. We see more and more countries developing regulations and operators understanding the importance of player safety. Our understanding of gambling-related harm is also increasing all the time.
At Mindway AI, we consider regulatory differences, cultural variations and nuances associated with different gambling verticals as a matter of course.
There is always more to do though. We would like to see a greater understanding of how critical reliable detection of gambling-related harm is. If you can identify issues early enough to intervene in a way that makes a difference, then that's a game changer. That's what we do at Mindway AI, and we do it to help people whilst keeping gambling entertaining and safe.
Q: What do you think the main challenges remain for the implementation of better RG tools and how do you think Mindway AI can help?
One of the main challenges is still the old compliance vs commercial argument although this is changing. Operators recognize that this is the commercially sound thing to do as well as the ethically sound one. Sustainability is key these days.
Education and awareness are also all important here. We need to normalize the use of safer gambling tools amongst our players. RG is not just for potentially problematic players, it is for everyone. Just like the safety systems we see built into our cars these days.
Mindway AI is committed to being part of the wider player protection community and partnering with other organizations in this space to achieve these goals.
Q: Do you think the Casino Guru Awards and the processes involved in judging nominees properly reflected the most important aspects of the category?
Absolutely – like we said earlier, winning this award was no walk in the park! The judging process here was very robust, and that is important for any award.
Q: Can we expect to see Mindway AI in next year's Casino Guru Awards?
We would expect so. As a company, we are constantly innovating and growing. There will be plenty for us to talk about next year and beyond.
Image credit: Casino Guru News