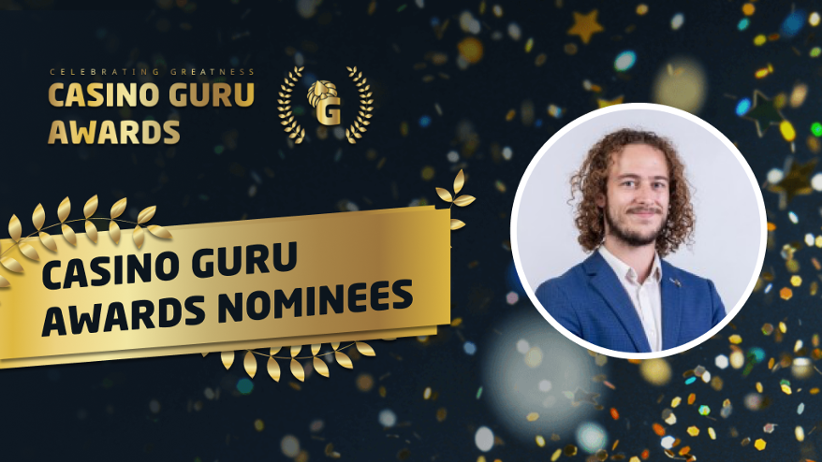 Matthew Curtis has been working with L&L Europe Ltd, an Online Casino and Sportsbook operator, since 2017 and is currently overseeing the Responsible Gambling department of which he has been a part since 2019. During this time the regulatory landscape has gone through significant changes, where Matthew has helped L&L Europe Ltd to remain fully compliant and successfully pass regulatory assessments with continuous improvements in our approach to reducing gambling harms. Today we sit down with him to find out more about why L&L Europe deserves to win the "Best Implementation of RG Tools" category for the upcoming Casino Guru Awards.
Q: L&L Europe Ltd operates numerous prominent brands in regulated markets. When did it become apparent that responsible gambling tools are an absolute must and what motivated you to lean more heavily on the implementation of such solutions?
L&L Europe Ltd is currently operating under licenses from the UKGC, MGA, SGA, and working towards a Netherlands license; with brands including All British Casino, Fun Casino, Hyper Casino, and more. Responsible gambling and the tools linked to it are something we have always put value in. A defining moment for the company was the release of the UK Gambling Commission's original Customer Interaction guidance 3.4.1, which has recently been expanded on in 3.4.3. As the UK market is at the forefront of responsible gambling measures, we have always benefited from expanding our responsible gambling tools and procedures from the UK into other markets. The enhanced affordability checks were one of the most important aspects of this, requiring responsible gambling tools and enhanced customer oversight to join forces.
Ensuring affordable playing activity is a big focus for us and one of our biggest motivators. The main issue we had originally was a lack of knowledge at the initial stages of the customer journey. This resulted in some difficulty when drawing a line on personal responsibility, responsible gambling tool usage, and proactive interventions. Due to this, we implemented improved procedures and systems that gave us crucial information on the customer at an earlier stage, while also guiding customers on using tools that suit their circumstances. Where necessary, we implement responsible gambling tools on the customer's behalf.
Q: Have you seen a strong uptake of responsible gambling tools by players and what have you done to ensure that these tools are visible, available and within the reach of each player?
We have seen a huge increase in uptake since our latest version of tool development went live and it has kept getting better as we refine it. Before this, we used to rely more heavily on deposit activity over tool usage because deposit activity is verifiable data points that are easy for us to control and a highlight for assessments. However, in our last assessment in September 2022, every customer account that was reviewed had a responsible gambling tool applied, such as a deposit limit, and all of these were evidence-based and customer-led.
We have made it very easy for customers to find and apply limits for themselves, but we also implement tools on customer accounts proactively. We reach out to customers on calls, emails, and chats to explain the tools and to go over any responsible gambling concerns. Every department that has contact with customers is provided with the current list of responsible gambling points that require interaction. This means we never miss an opportunity to inform a customer about the tools and discuss limits, affordability, and concerns.
As you mentioned before, L&L Europe Ltd is an online casino group with many prominent brands in regulated markets such as the UK. Due to this, we implemented a 'Master Limit' function, meaning there is one uniform limit across our array of brands. We also implemented a 'lock' feature for the tools where the Responsible Gambling department can prevent any limits from being removed/increased without customer interaction.
We are constantly reviewing uptake of tools and the evidence of our interactions and tools having the intended outcome on customer accounts. We do this by reviewing the impact of our pop-ups, looking at interaction rates, tracking customer behavior and spend over time, and so on. This helps us to focus our resources as a business, ensuring we are utilizing our human resources efficiently and that our online platforms are serving our customers. It also enables us to readily display this data and the impact of our work during assessments.
Q: What have you learned about consumer behavior and consumer attitude towards responsible gambling tools in your experience in the industry over the past years?
Generally speaking, most customers appreciate the tools available to them and our proactive use of tools as needed. Empowering the customer has a huge impact on how the tools are perceived. Tool usage should be customer-led for all but the most extreme of circumstances. This truly promotes responsible thinking and therefore good decision-making will apply to the customer's gambling activity as a whole, not just with one operator.
We found a good middle-ground to be a combination of initial prompting and informative messaging, followed by a mandatory form that will obtain customer information and apply tools based on the customer's own suggestions. We don't fully rely on customer suggestions without actual affordability evidence, so we use public data sources to compare with customer data points and have fail-safes that protect low-income earners.
Customers that complain about tools tend to fall into three categories, either they dislike being pushed to use a tool, dislike sharing their personal data, and/ or dislike this overreach of their personal sovereignty. Consumer attitude has shifted as they come to understand the current regulatory environment where casinos are obligated to push tools, affordability, and safer gambling. By giving the complaining customer the pertinent regulations along with our actions, allows us to show that we are a trustworthy casino following best practices. The customer that continues to complain about the casino's rules tends to be someone who needs to use our tools and be watched more closely for their higher risk.
Q: Have you had to dramatically change the way you promote responsible gambling solutions to target audiences
There have been many changes over the years, but it hasn't been a dramatic shift for us. The changes we experience are a general evolution of our goal to reduce gambling harm at our online casino network at L&L Europe Ltd. Two ways that we have recently made great improvements on the promotion of responsible gambling solutions are interventions and interactions.
For example, we are more proactive with customer-tailored early interventions that stem from improved onboarding checks, customer behavior alerts, lower thresholds, and a mandatory affordability form. Our interventions will at a minimum place deposit limits on every customer account based on customer-supplied data and as needed, external data sources that ensure an appropriate limit is in place to slow down customer spending. Additional layers of checks, alerts, and interactions then build a total safer gambling sphere that enables us to serve gambling products to customers while reducing harm significantly.
The second improvement we made was the expansion of the Responsible Gambling team with dedicated customer contact officers. This has helped us achieve a successful total customer interaction rate of over 80%. For our customer segment showing the most risk, we are at a 99% success rate. Any customer that we are unable to contact will have their account limited further than our initial interventions which is why our highest-risk customer success rate is that much better. This is exactly what regulators want to see, an operator using evidence and interactions proactively. Going into a regulatory assessment with every top customer having a successful interaction is a wonderful situation, and we positively look forward to showcasing our work.
Q: Why do you think L&L Europe Ltd deserves to win "The Best Implementation of RG Tools" distinction?
Responsible Gambling has always been a priority of top management at L&L Europe Ltd. This is the most important first step to doing anything with responsible gambling well. We are lucky to have our CEO, Christopher Dalli, as a knowledgeable responsible gambling champion who puts the resources, development, and priority behind our team to succeed. This ensures we are always ahead of the curve with our responsible gambling measures.
L&L Europe Ltd is by no means the biggest operator around but we punch well above our weight when we compare ourselves to where other operators are in their responsible gambling development. The most significant cases of external operators are shown in the published compliance assessments and actions taken by regulators. Everything we do is aimed towards the customer's well-being and from there we find the most efficient manner to deliver on this goal every day. There truly is not a single day where we stop creating, learning, and reviewing. This passion has led us through multiple regulatory assessments and helped our customers to play safely.
One of the most impactful statements that guide our development of responsible gambling tools and procedures is this message from the UK Gambling Commission in their Raising Standards guidance:
"We are concerned licensees are creating complex and convoluted matrices and mappings within their affordability framework to place customers into trigger groups well over the gross earnings stated above, before disposable income is factored in. Of more concern, these trigger groups are set without any sort of customer interaction to influence their true affordability determination. Operators must interact with customers early on to set adequate, informed affordability triggers to protect customers from gambling-related harm. Failure to do so could render the operator non-compliant."
Responsible gambling is like driving a car; no matter how fancy your car is with lane assist features and superior traction if you are not using it to drive safely, then what's the point? Inventing a complex scoring matrix with third-party solutions is similarly unnecessary if it builds false confidence and leads you astray from the simple facts: reduce deposit velocity, identify harm early, understand affordability, and interact with your customers.
L&L Europe Ltd deserves to win the best implementation of responsible gambling tools as we have proven to be the safest drivers on the road. We do all the simple things right, all of the time. We take the responsibility given to us by the licensing authorities seriously and are proving this with our customers every day. And while our tools and procedures described in this article look simple and straightforward, I will leave you with this quote:
"Complexity is your enemy. Any fool can make something complicated. It is hard to make something simple." - Richard Branson
Image credit: Casino Guru News