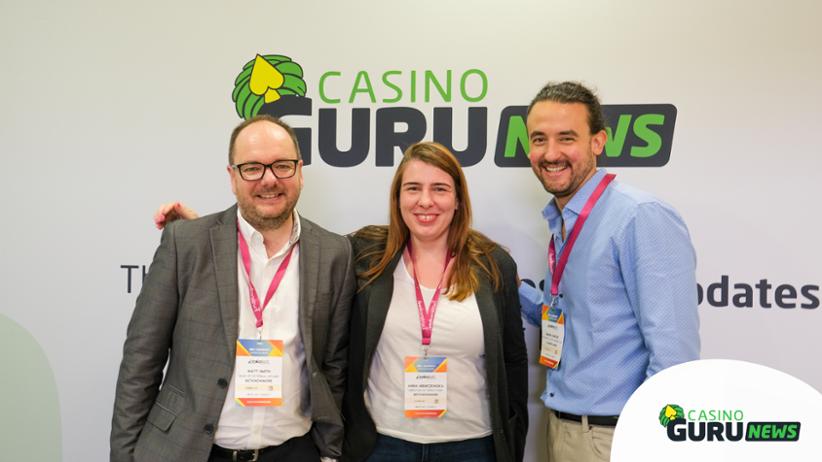 Casino Guru News had the opportunity to speak with Matt Smith – Head of External Affairs for UK Charity Betknowmore at the SBC Summit Barcelona 2022 in September, and his colleague, Anna Niemczewska, Betknowmore Director of Operations. Betknowmore recently acquired a full NGO status, and it has been working consistently to improve the level of responsible play in the gambling industry. The charity has been able to chart a course to protect consumers and involve more parties in understanding how problem gambling can be tackled in a meaningful and sustainable way. Collaborations are important, says Matt, who sees honest partnerships as the truest way to address one of the industry's biggest problems.
Q: Can you introduce our readers to BetKnowMore and what it is?
Matt: BetKnowMore is a charity, a UK-based charity. We support people who have been harmed by gambling. We also offer training to the industry. We started off as a social enterprise back in December 2013 and now we have over 25 employees many of whom have lived experience of gambling and work across the charity and training division. We were granted full charity status in 2021.
Q: What motivated you to start the project?
Matt: Our CEO Frankie Graham started the project. I think it came from his own experience with gambling. He had been gambling for long periods of his life and he got into recovery then he wanted to do something and help people on their own journey. There weren't enough support services to assist people to gain control of their lives again.
So, I guess it has to do with supporting the industry and what people do in the industry – such as training people to be aware of safer gambling. I think there is hardly a better voice than the voice that has been through problem gambling to assist operators. A lot of the work that we try to do right now is built together with the industry so that everybody knows what needs to be done to move forward and to keep players safe.
Q: Do you see your work impact the lives of others?
Matt: Yes, absolutely – all the time. One of the biggest successes so far for the charity is a support service called Peer Aid. It offers peer-to-peer support from people who were gambling and then stopped gambling, and now offers support to others who want to stop gambling as well. They volunteer for this service and some of the stories we have heard are very inspiring.
Some people have been able to put their children through university because of letting go of their excessive gambling habits or going on a holiday and just doing other things that have a meaningful impact on people's lives.
I mean, it's really important to know that we are neutral and that supporting those affected by gambling harm is our priority – we believe that we can collaborate with people in the sector to help with advancing the understanding of what issues consumers are facing.
Q: How do you think the UK gambling industry can do better to protect consumers?
Matt: Collaboration. It's all about working together. We have been talking with Casino Guru Simon Vincze and we know about the Global Self-Exclusion Initiative which we are really interested in because I think it's important to have this joined-up thinking, everybody needs to come together and work in collaboration around all of these different ideas.
We need to focus on different people as well, young, and old, and just bring all of these people into the conversation and see what their are difficulties. So, when we all work together we can actually do better. We can actually have an influence on the industry.
I have had a couple of meetings with people from the industry to talk about the work we are doing. We are getting better at these conversations now because what I think used to happen is we would have a phone call and someone would say "we are not talking today, goodbye."
So yeah, a while back there was some scepticism but now, we are all coming and working together. Some organisations even pick up the phone and come to us and say, "can you help us with this – how do we deal with this particular customer?" That's how far we have come, and we think there is a lot more that can be done.
Q: If there were three things you can change in the gambling industry today with the snap of your fingers, what would they be?
Matt: I think my first answer would have to do with affordability checks. I think some of the regulators across Europe are really pushing this agenda, but I don't think it's all about affordability, I think it's actually about vulnerability. Just because you have access to large amount of money doesn't mean that you are not experiencing a problem. Because you might have suffered something in your life in the previous week and you are using gambling to escape from that. So, I think we should look into individual behavior, not just the financial data.
Anna Niemczewska: So, I think that this may be a bit controversial. I find it interesting how the industry waits for regulation and reacts for regulation. So, I would actually say it's empowering the industry to actually understand that some people have problems and react to those rather than wait. So, a more proactive approach from the industry is kind of an interesting idea for me.
Matt: And I'd say, let's put the focus on the customer. Let's put responsible gaming at the forefront of everything we are doing. We were talking to an operator in North America, and they actually have the gambling messaging right on their front page in your eyeline rather than hidden away. They have been bold and progressive rather than being frightened about using consumers. Let's think about quality than quantity.
The quality of the customer that you got is important – they are in a good place to gamble responsibly.
Q: Do you think self-regulation is possible or it should all emanate from regulators?
Matt: I think self-regulation is possible, but it would take that collaboration I am talking about. I think regulators have a good part to play. I also think that operators and regulators tend to do their own thing rather than starting conversations with each other which can be improved upon.
We have to have adult, grown-up conversations. It's actually what we call the elephant in the room because, you know, sometimes companies and regulators are like – we do not like to have these conversations because it may upset this or that party.
There is a domino effect – everything starts to fall. I think operators can self-regulate, of course, but they have to put that safer gambling in front of everything they are doing to show people from the outside that they are actually taking all necessary precautions.
Q: Where do you think the faults and weaknesses of support services that help problem gamblers are?
Matt: I think funding. Support services need adequate funding in order to tackle problem gambling. Charity services need that funding more than ever now because we are in the post-COVID environment and there are many people whose health has been affect and during that period people probably started to gamble and they gambled problematically.
Meanwhile, the cost of living across Europe is going up and maybe people's gambling behaviors will now become more problematic. Maybe we won't see these people step up and talk to support services in the next few years, but when they do, most likely the reason for their behavior would be these things – the COVID lockdowns, increase in the cost of living and so on.
Q: What is the message you want to send to people who may be struggling with gambling right now but may be hesitant to reach out?
Matt: Yeah, actually I want to circle back to my conversation with Simon and say that I was really impressed with Casino Guru's website because there are a lot of responsible gambling materials available. There is so much stuff there. So, my advice to people who are hesitant to reach out would be to check the BetKnowMore or Casino Guru website and reach out to somebody.
I have lived experience with gambling. I have been recovering for eight years now and the biggest issue was that I was scared to talk to somebody because of the stigma of what I have done, and the people I have hurt, and I was living in fear.
But the moment I opened up and told somebody I had a huge weight lifted off me and I was able to move forward, and I am now able to do this work I do now, and I am able to support people who need it.
Anna: We want to find a way to reach people before they reach crisis point and educate people on safer gambling tools, educate people on possible risks, possible harms, vulnerability – before they hit, that crisis point. I think for support services that is what we should be focusing on – let's make sure we are there before people hit that crisis point.
Q: Do you see affiliate businesses trying to genuinely help and encourage safer gambling practices?
Matt: I think Casino Guru takes responsible gambling very seriously, yes. I think the problem is that most companies give those small token gestures to safer gambling rather than having a fully worked-out strategy towards the issue. I was in Oslo recently and we were at a gambling conference where Simon was talking about the self-exclusion program, and we thought that this was groundbreaking as we never heard another affiliate company do the same on an international scale.
So, clearly – your company has a commitment towards this, and Simon told me that you also use lived experience and the voices of people who have actually struggled with the problem to power the self-exclusion initiative.
I think BetKnowMore also has more influence in the sector and more credibility, and we are able to build upon that.
Image credit: Casino Guru News