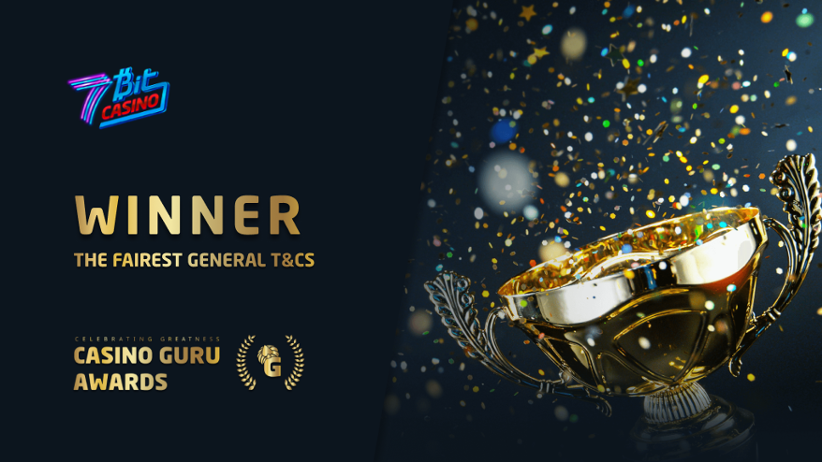 The gambling industry is agog as it seeks to transform itself into a sustainable, player-centric venture where consumers are protected and enjoy the benefit of an open dialogue with operators. It all starts at the very core of operators' offer and by providing consumers with clear-cut terms of use in each casino and gambling property.
This is where 7BitCasino comes in. The recent winner of the "Fairest General T&Cs" category at Casino Guru Awards 2023, we sit down with the team behind the casino to find out what this distinction means for them, why the principles of fair T&Cs are important to them and the industry, and what can be improved in the coming months and years.
Q: Congratulations to 7BitCasino on winning in the "Fairest General T&Cs" category at the recent Casino Guru Awards. How does this achievement feel?
We really appreciate this opportunity to participate in this ceremony, and thank you for congratulating us on winning the "Fairest General T&C" category at 7BitCasino. It was the best experience for us. Moreover, we believe that Casino Guru is the best and most honest service.
Q: Why is it so that 7BitCasino excels in the way it presents its T&Cs and other companies tend to fall short do you think?
One of our achievements is that we have a fairly broad base of rules, which is clearly and specifically stated on our website, and which helps us to solve problems that players contact us about. For our part, our team always advises in accordance with these rules and provides good support.
Q: What advice can you offer to other operators that are looking to improve their own T&Cs so that they are fairer to consumers?
We recommend other operators indicate all casino terms and conditions in a structured and clear manner so that players do not have any unnecessary questions or confusion in the future.
Q: Were your players a source of feedback when adjusting your fairest T&Cs and what did you find the most challenging in aligning business needs with player expectations?
Frankly speaking, we try to keep up with the times, always listening to the advice and comments of our clients. Worth mentioning, that in almost most of the issues, we are able to meet the players' needs.
Thanks to this two-way communication, it was possible for us to build the foundation of our project.
Q: What is next for 7BitCasino and will winning the award change anything about the way you do things this year? Will you see you submit an entry into next year's Casino Guru Awards as well?
Of course, we are planning to apply for the Casino Guru Awards next year again. This has given us the incentive to continue to improve our T&Cs and our customer support service.
Q: What is your general impression of the Casino Guru Awards process and what are the points you liked and then again, you thought could be improved?
Everything was at the highest level. Thank you again for this opportunity.
Q: What do you think are the main differences between Casino Guru Awards and other similar events?
As for us, we had an amazing time. It was one of the best events we've ever been a part of. All in all, we are looking forward to attending more such events in the future, and we are looking forward to seeing what the next ceremony will be like.

Image credit: Casino Guru