Wolf Run review
Theme and Story Line
Wolf Run is a slot game based around the world of a wild wolf pack. The symbols are various wolf pack members along with the standard ace to ten symbols to fill out the theme. All of this is overlaid on a background of pine forests where your wolf pack can hunt for the jackpot.
The game has existed in a couple of versions. It began its life as a brick and mortar slot which spawned two sequels: Wild Wolf and Wolf Rising.
Now you can play Wolf Run online.
Graphics, Sounds and Animations
The game is well designed visually, and although the symbols on the reels are a little busy, they are well enough designed and are not hard to read, or unpleasant to look at.
The background vista of a Rocky Mountain wilderness sets the scene as do the Native American designs in both the logo and the Totem symbols.
The sounds are well chosen with both the reel and win sounds adding to the overall experience.
Gameplay
Some of the game's age shows in the gameplay, there are very few bonuses and little variety. You just spin the reels most of the time without much to change the pace. If you like your slots straightforward this might appeal to you but if you're looking for bells and whistles look elsewhere.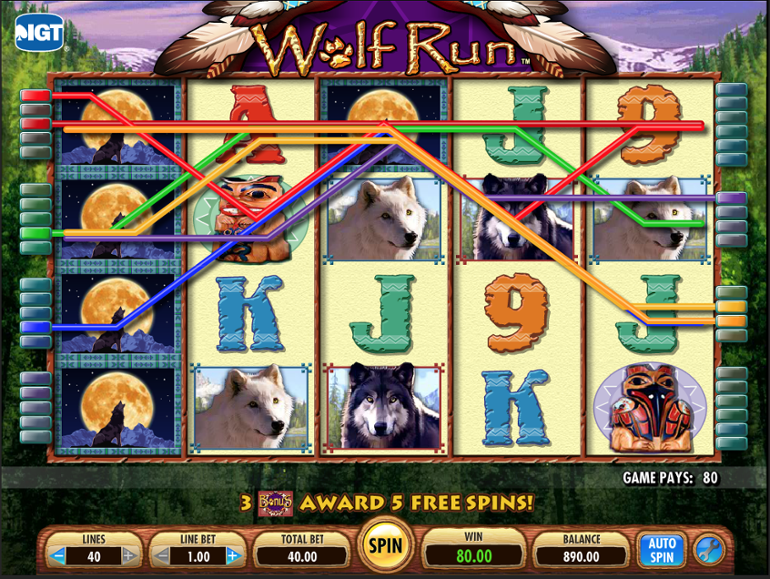 There is a nice touch in the stacked bonus feature. This adds a lot of near misses to keep you excited. The way this feature works is that a block of each reel is given over to stacked symbols which are assigned at random. All stacked symbols on a given reel then receive the same symbol meaning if you hit a number of stacks at once you can rack up a lot of winlines.
But overall the game is a little too samey for a strong recommendation for gameplay.
Wilds, Bonuses and Free Spins
With only five bonus spins when you do hit them, the game can be a little frustrating. It does still offer you the chance of hitting it big, if you do manage to swing a big win, which can be hard since the payouts do not change in the bonus round.
The symbol with the largest win (the wolf howling at the moon symbol) also plays as wild, so even if you miss lining up with that symbol it is nice to see it as it makes your chances better of hitting something else.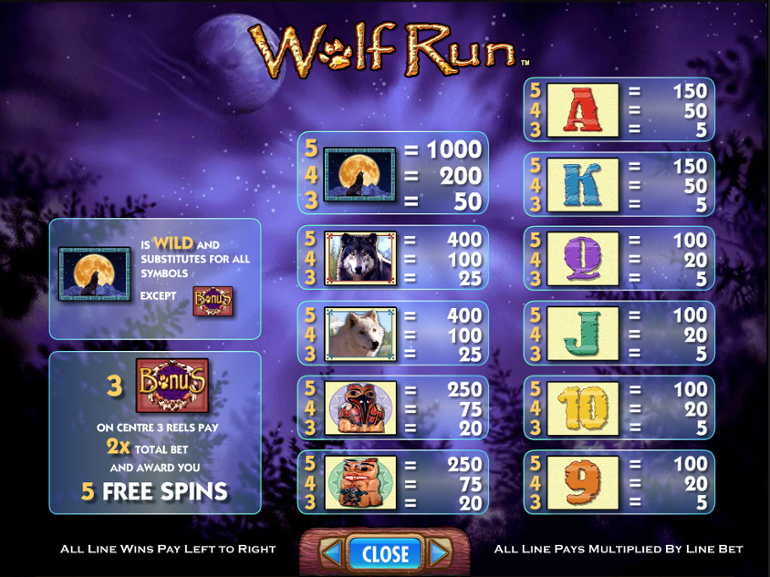 Bet Sizes, RTP and Variance
Thanks to the choice of how many lines you play, there is a nice spread of bet sizes available. For example the version we tested had coin sizes ranging from $0.01 to $5.00 which with the ability to choose how many lines you play that allows you to stake anywhere from $0.01 up to $200 per spin.
Naturally this will impact your variance, but overall the game gives a lot of small wins making it medium to low-volatility. The stacking feature means you often hit a bunch of winlines at once when you do get your symbols lined up.
The game has an RTP of 94.98%, lower than the industry yardstick of 96.00%.
Conclusion
The game is well made and has a large range of bet sizes available thanks to offering a choice of how many winlines to play. The stacking feature is a nice addition.
However its low variance, RTP of 94.98%, and lack of additional game features make it hard to recommend strongly except to those on a small budget looking for a quick low-variance game.
Author:
Jon Pill
| This review was last updated: 22 Jan 2020