Jurassic Park review
Theme and Storyline
They were too busy seeing if they could make such a slot, to wonder if they should…
The Jurassic Park slot is a fun dino themed slot drawing on the world and mythos of Steven Spielberg's 1993 adaptation of Michael Crichton's techno-thriller by the same name. It features all the pre-historic beasts you'd expect plus the backgrounds are drawn from the sets of the movie.
For fans of the movie, this will make for a pleasantly familiar gaming experience. For those who aren't a fan of the movie, you can still enjoy the dinosaur animations, tropical locales, and Jeff Goldblum at his peak.
Graphics, Sounds and Animations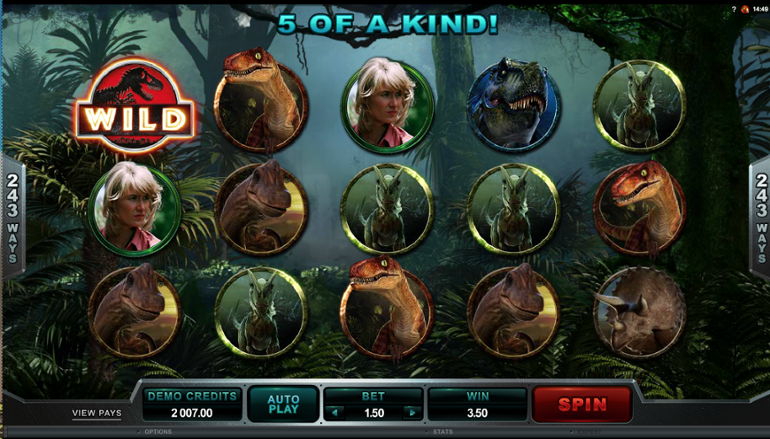 As you might expect for a blockbuster movie tie-in, the graphics look like Microgaming spared no expense. The backgrounds (which are varied depending on what bonuses you select) are animated to pan by in the background with a proper 3D effect.
The icons are all animated beautifully and with plenty of visual variation. Overall this is a top-notch slot to look at.
The sounds are not bad either. Jurassic Park earns a lot of points for its excellent presentation.
Gameplay
The gameplay is a pretty straightforward five reel, 243 win-ways slot. There's no gamble feature or mini-games. However, the bonuses do come in a decent set of varieties which is nice.
There is a randomised "T-rex alert mode" that triggers in the main game and adds up to 35 additional Wild symbols to the reels for six consecutive paid spins.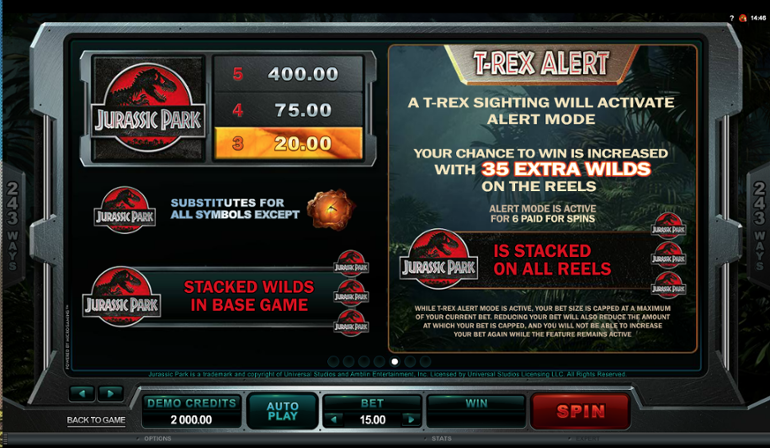 The other gameplay features are functional. For example, the autoplay is well paced and the bonus "research" (more details below) adds a progression to the game that is lacking in many slots.
Wilds, Bonuses and Free Spins
There are two main special symbols: the Jurassic Park logo serves as a Wild symbol and substitutes for any symbol except for the Amber.
This is because the Amber symbol plays as both a Scatter symbol and, if you hit 3 or more, triggers bonus spins.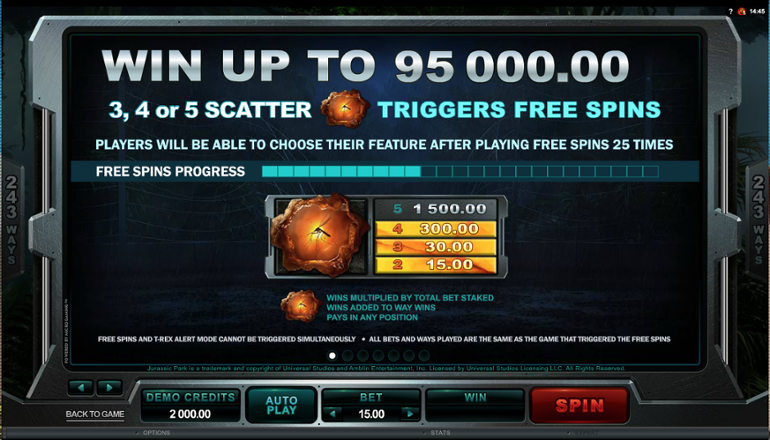 There are five different bonus spin features each one named after one of the dinosaurs exhibited in the original Jurassic Park. Each one provides a different combination of multipliers. For example, the T-rex bonus (the first to be unlocked) provides 12 free spins with Wild reels and stacked T-rex symbols. Each time you hit the bonus you unlock another bonus.
Once all five are unlocked you can choose whichever of the five you most prefer.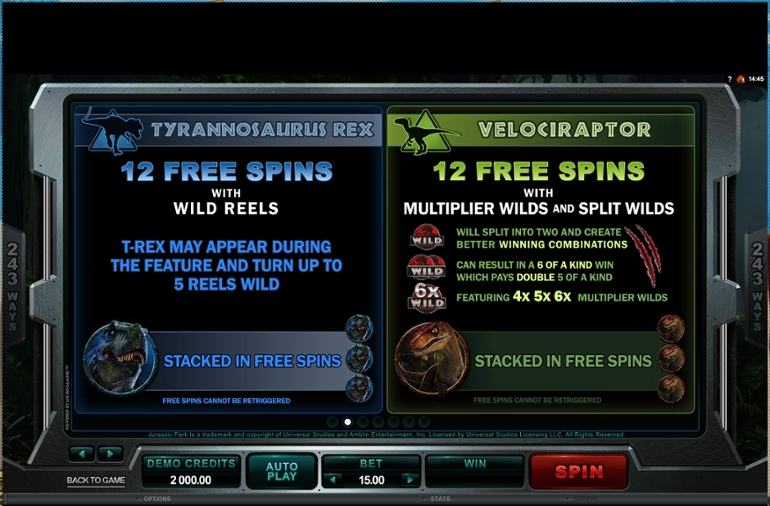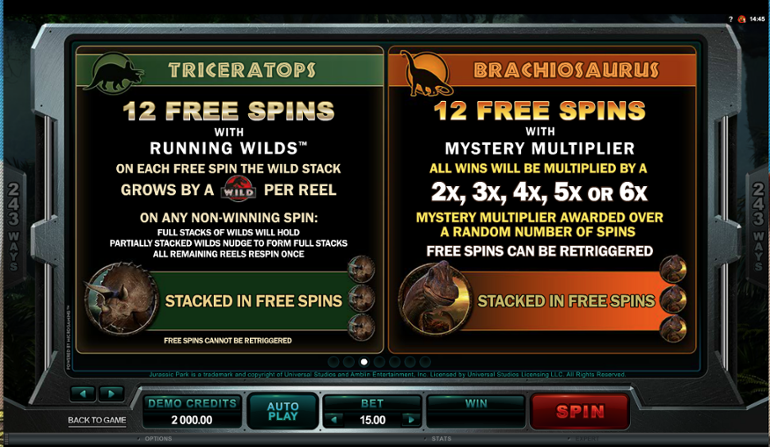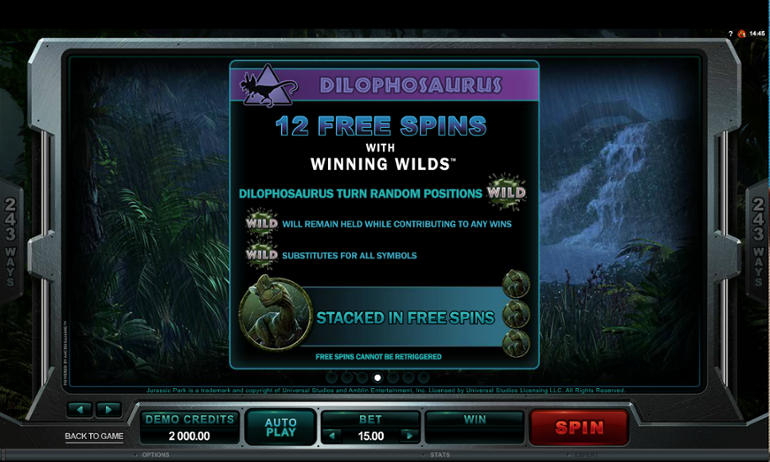 Bet Sizes, RTP and Variance
As this is a 243-ways slot, there is no way to affect the medium-variance of the game by altering winlines.
The site we tested allowed a bet size of £/$/€0.30 up to £/$/€75.00 per spin. That is is a tighter range of bets than some slots out there but unless you are playing with a very low, or very high- bankroll you most likely fall comfortably into that range.
The RTP of 96.7% is about what you'd expect on a slot like this, especially if you are not looking for a particularly high-variance slot.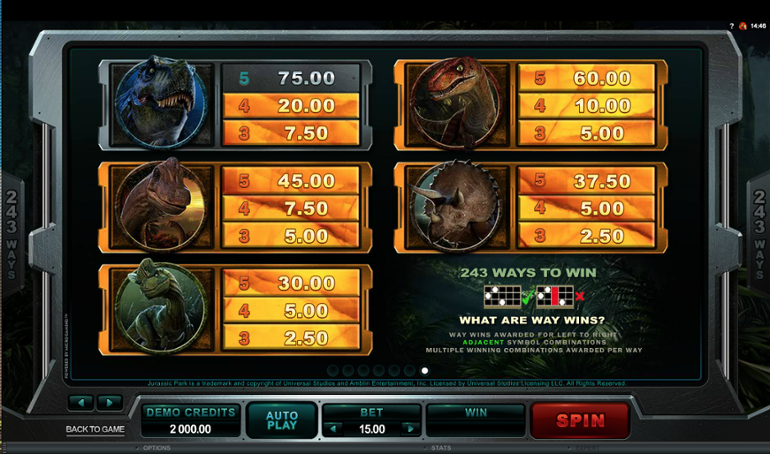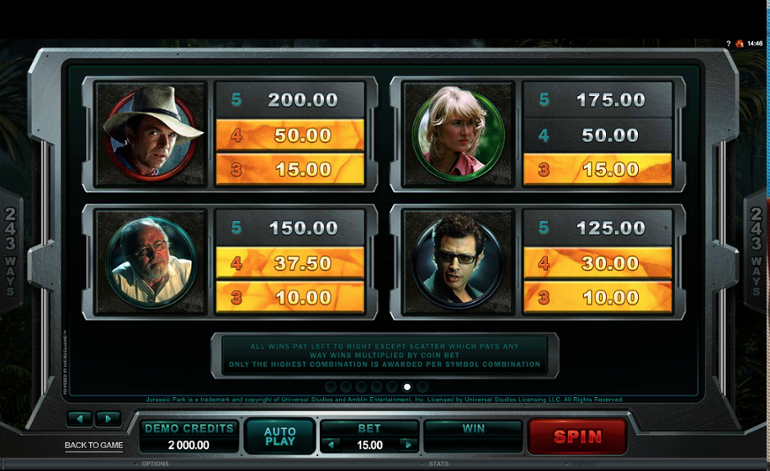 Conclusion
Jurassic Park is a beautifully made slot with some nice bonus features.
Its main downside is that it is a medium-variance slot and there is no way of upping the variance by playing fewer win-lines.
Despite this the RTP is acceptable, and the quality of the slot all other regards is exemplary.
Author:
Jon Pill
| This review was last updated: 04 Oct 2019