Immortal Romance Review
Theme and Story Line
The story of Immortal Romance, and in this game there really is a story, is one of mysterious vampires, sexy witches, and attractive lab workers, all of whom are going to live forever and some of whom may fall in love.
The characters in the symbols all have back stories which can be read by clicking into the payout screens. These characters come up as part of the gameplay in the bonus rounds (more on this later).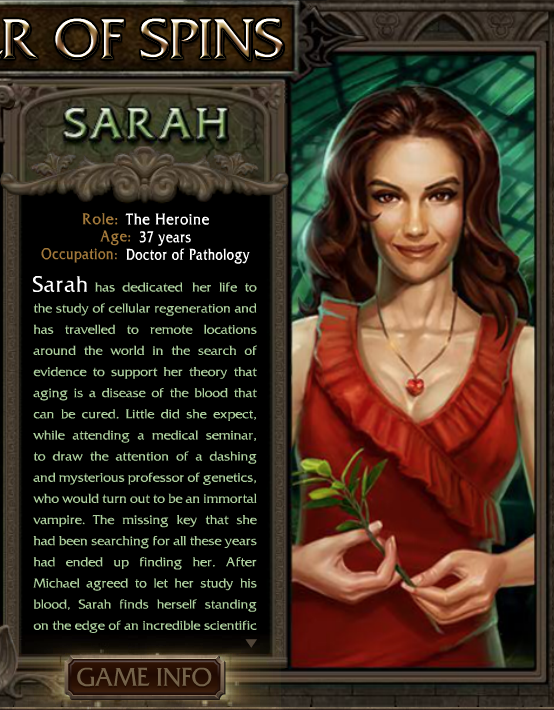 Overall great care has been made in generating a world you can get into as you play which will appeal to those who like more of a story element to their slots.
Graphics, Sounds and Animations
Sound is where this excels, with a full orchestral score going at all times and a lovely building tension when you hit the scatter symbols.
Great effort has been put into the symbols too with each one having a unique animation and sound effect when you win with them. In the case of the character symbols they come to life briefly flashing vampire teeth or or sexy looks at you over their shoulders.
In fact in general it is clear that a lot of work has gone into making this slot and that has to be admired.
Gameplay
Immortal Romance uses a system with 243 win ways. This requires you to hit a symbol anywhere in three or more consecutive reels from left to right in place of the usual set of winlines. While there are plenty of ways to win, wins actually come few and far between.
As a result the gameplay is a little different from some slots on the market.
Despite this the game is well designed to keep the tension up in the down periods and when it does pay off it pays off big.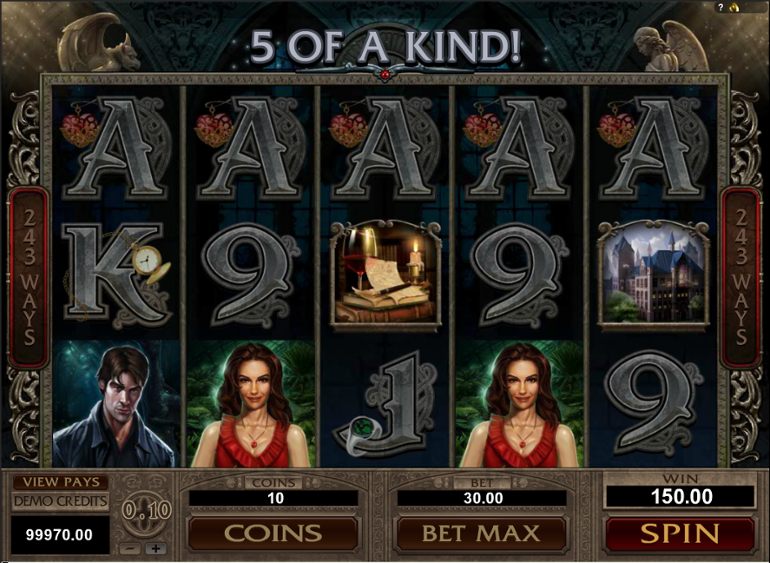 Wilds, Bonuses and Free Spins
There is a scatter symbol which also acts as the bonus trigger should you hit more than three of them in one spin.
When that happens you choose one of the four characters whose special skills provide you with a different combination of multipliers, free spins and other features.
An additional feature is that only one of the characters is available at first (Amber who gives you 10 free spins with a multiplier of x5 on the wins). After you trigger the bonus 5 times, the next character becomes available. The new character adds the option of 15 free spins and a 'Vampire Bat' feature. And so on until all four characters are unlocked.
There is also the Wild Desire feature that triggers entirely at random and when it does, it turns up to five reels wild.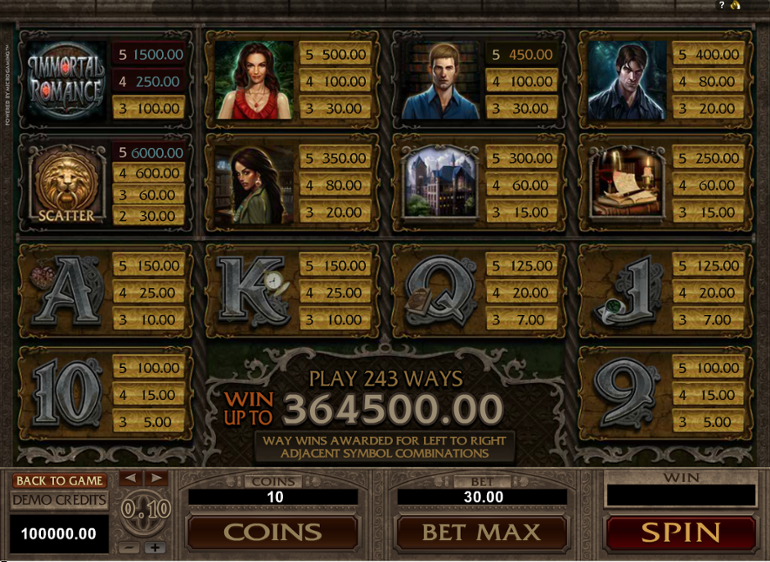 Bet Sizes, RTP and Variance
The range of bonus feature to play with seems to have some effect on RTP as the company gives the range of 96.01% to 96.86%. Since 96% is around average for the industry, this is fairly standard.
When you couple the RTP with the now famous (or notorious) high variance of Immortal Romance you get a very attractive game for anyone wanting to play our recommended strategies which tend to rely on high variance to work.
The betting system is a little unclear on the game and different online casinos put different limits from €/£/$10 max bet per spin at one casino we tried up to €/£/$150 per spin at another. So shop around to find somewhere with the stakes you like to play.
Conclusion
Immortal Romance is a well plotted and paced slot machine with a real story behind it and a number of neat features including unlockable bonus features and the 243 line win feature that give it some spice.
It is also nicely designed with animations and graphics that are both detailed and clear.
This is a fun slot that is easy to recommend.
Author:
Maros Gasparik
| This review was last updated: 13 Oct 2020